Driving at the Goodwood Festival of Speed 2017
What's it like to climb the Goodwood hill in three distinctly different cars; a 70s sportscar, a 90s rally car and a modern super saloon?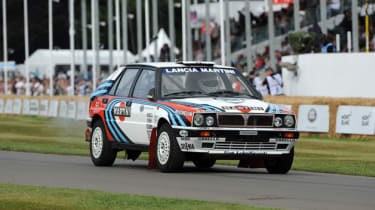 Driving something old, precious and historically significant, like one of the works Lancia Delta HF Integrales that competed in the 1991 World Rally Championship, comes with a huge weight of responsibility. Driving anything in front of a huge crowd up a stretch of tarmac you're unfamiliar with is equally nerve wracking.
As a result, the Goodwood Festival of Speed could perhaps be the worst place to drive a car with a recalcitrant competition gearbox and a cammy engine that fouls its plugs if you aren't revving the hell out of it. In fact, it isn't the ideal place to drive anything, let alone a race car you're unaccustomed to.
Yet still, when the opportunity arises to take part in one of the world's most diverse, prestigious and well organised motoring events you simply can't turn it down. And if you get to drive some exceptional cars, like the aforementioned Group A car, a 70s Italian Le Mans car or a powerful V8 saloon car, then even better.
> Read our roundup of this year's Goodwood Festival of Speed
You don't get long enough up the hill to ever get used to a car, and you certainly don't get enough time driving – there's a lot of waiting around, but the experience is absolutely worth it – to ever be able to impart what a car is really like to drive. So rather than trying to intimately explain what the transition from grip to slip is like in a Alfa Romeo Tipo 33/3 Le Mans, how stable a Vauxhall VXR8 GTS-R is on the brakes or what the steering feel is like in a Lancia Delta Integrale Evoluzione, here's what it's like to drive those cars up the Goodwood hillclimb, and the Goodwood hillclimb alone.
1991 Lancia Delta Integrale Evoluzione
Despite being built to be durable enough to tackle harsh terrains and extreme weather at maximum speed, I can't help but handle the Integrale like it's some sort of precious artefact from a museum.
I'm not doing it to impress the mechanics that are looking after it, and all the cars from the FCA Heritage collection that are over for Goodwood, but it proves to be helpful.
The mechanics and engineers that run these cars are no fools. They observe how you treat the car when you're manoeuvring around the paddock, how mechanically sympathetic you are, how inquisitive and understanding of the car's controls and start procedures you are. If you're deemed trustworthy and reliable enough they'll let you into some of the car's secrets so you can drive a little bit quicker, and hopefully enjoy yourself a little bit more.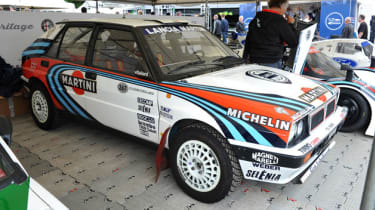 I must have done something right, because just before the start line, the Integrale's keeper sidled up to the window to give me some advice on how best to launch the car. As he didn't speak masses of English, and my Italian is nowhere near as impressive as I like to think it is, he imparted his wisdom through noises and gestures. Very Italian.
What I understood from the 'whhhaaaa baaa baaaa' noise and his hand movements was that I needed to rev it at the start, then dump the clutch. I asked if about 5,000 was a good rpm to aim for and I got a vague nod, so, despite my temptation to treat the car like a delicate ornament, I obliged and started with the discussed revs.
I wasn't really enough as the car bogged down slightly, and I realised the nod I got was probably a slightly disappointed one. Had I suggested 7, I suspect that would have been met with more enthusiasm as I have no doubt the car would be more than capable of coping with it.
After slowly shuffling around the paddock and practically rolling down the hill to the start, the Integrale felt very sprightly off the line, even with a tame start like mine. The super-closely stacked ratios in the gearbox helped it accelerate with much more verve than its quoted 296bhp might suggest.
Riding high on relatively skinny, knobbly tyres in full gravel spec, albeit with the mudflaps rolled up, the Integrale wasn't running the ideal Goodwood set up. But because the tyres were happy to relinquish their grip fairly readily, I didn't have to commit to any of the corners like my last name was Alén, Toivonen or Waldegård to feel the car start to move around. Don't for a minute think I was backing it into each bend, but I did have to use the throttle to help adjust my line a little bit. Enough to give me the impression, false or otherwise, I was properly driving it. 
2017 Vauxhall VXR8 GTS-R
Ok, so this car doesn't have the same glorious competition history as the Lancia above or the Alfa below, but it has an abundance of charm. I've had the opportunity to drive a VXR8 on multiple occasions, although never a GTS-R like this. On paper it isn't much different to a regular GTS (no Touring driving mode, a special exhaust and 11bhp extra), it still has a vastly powerful supercharged V8 engine, manual gearbox and rear-wheel drive layout so I can expect the same manageable and predictable handling characteristics, something very welcome after the alien experience of the Lancia.
587bhp, 546lb ft of torque, that manual gearbox and an LSD are the perfect combo for Goodwood. It makes showing off to the crowd, doing donuts and burnouts, so very easy. Not using the turning points and the slow roll down the hill to appease the baying crowds would be mean.
> Find out what the Vauxhall VXR8 GTS is like on the road
Being as exuberant on the actual run up the hill requires a bit more nerve than some low-stakes low speed shenanigans. And, as we established from the Lancia drive, I'm no Scandi rally hero, so I didn't fully commit to the first corner; I braked conservatively and slowed the Aussie brute down to a sensible speed. Having not overcooked it into the corner I was a little more reckless with the throttle to create a bit of drama and make up for my temperate corner speed. But the GTS-R merely dug in, gripped and propelled me to the next corner; the one with even more spectators.
Now, having got my eye in on the first corner, I felt comfortable putting on a bit of a show for the bigger crowd. I was never going to set a blistering time and absolute commitment wasn't on the cards so some drama had to come from somewhere. I turned in aggressively, stabbed the throttle early and rode out a slide around the second bend.
The track isn't very wide and I felt the rear dip down as if it had fallen onto the grass, but a brief look in the mirror revealed more smoke than dust so I guessed I hadn't torn up too much of Lord March's lawn.
The rest of the hill is more treacherous. Blind corners and walls close the track mean that you're more likely to stop play momentarily or do some damage than entertain anyone. What's more, the crowds are less plentiful so your efforts aren't as well appreciated.
1970 Alfa Romeo Tipo 33/3 Le Mans
Back into a proper race car, the request to wear a full FIA-approved race suit feels more appropriate than it did when I was pedalling a road car at moderate speeds – regardless, I'm more than happy to look a little overdressed just to be involved.
Proper race car or not, if this car had never competed, didn't have an engine or never even turned a wheel it would still be special. Just look at it. But, until you hear that engine, you don't know the half of what makes the 33/3 so incredibly appealing.
Before you get to experience that noise, though, there are two barriers. Firstly a tricky starting procedure that requires a big switch followed by a smaller one. Then you have to wait for the needle to reach half way on what looks like the oil pressure gauge. The language barrier meant it wasn't easy to determine what the dial exactly was; despite an oil can on its face I suspect it was actually fuel pressure. Then you get to press the start button. After feathering the throttle to get the engine to fire it's important to turn off the small switch once the engine is running.
Secondly, the Alfa has an incredibly stiff throttle pedal. It's so reluctant to move that you use so much force you feel like you could break something. But once you do get it to move the engine bursts with a rapid gurgle, the exact noise that I've heard in old race footage of 60s and 70s sports cars and films like Le Mans. Only this time it's louder, there's more depth to the noise and, significantly, I'm in control. I can blip the throttle and make the noise as often and for however long I like, so I do. Repeatedly.
Yet the noise never loses its novelty. It's such an evocative sound that, combined with the sun that's beating down on me through the car's open top and the well-worn brown leather steering wheel in front of me, I feel like I'm about to tackle the Targa Florio.
I'd have been grossly unprepared for the Sicilian road race though, as the short Goodwood hill proves. I don't make a single smooth gear change in the brief minute or so it takes me to reach the finish line. From first gear to second is relatively smooth, but my next attempt at a change was less impressive. I selected third way too early and the engine came off cam so abruptly I thought it was going to stall. In my defence, the rev counter didn't work.
I can't blame the lack of tachometer for my repeated missing of third at every other up change I made, instead I accidentally skipped straight to fifth. What was most annoying about my fluffed gear changes was that I knew the engine would have sounded better if I'd got them right.
My ineptitude didn't completely ruin the experience; nothing could ruin driving something quite as pretty as this Alfa, and certainly not one that sounds as glorious as it does.