'A Lamborghini Aventador is pure showtime, and the way it speaks to my young son demonstrates that to a T'
Does Porter like the Aventador? No, but his boy doesn't need to know that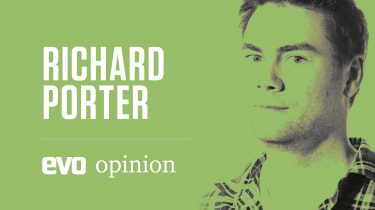 We let our boy play one of those throwaway game apps that reminds you why parental controls should be switched on at all times. No one wants to be charged £34.99 because an excitable six-year-old changed the colour of his poorly rendered fighter jet. Except in this case it wasn't fighter jets that our lad wanted to hack across the screen of his brightly padded tablet. This was a car game.
Normally he's not so interested because cars can't fire guns nor be smashed deliberately into a pixelated ocean, both things that seem to amuse him, worryingly. Sometimes I also worry about the conditions under which these disposable, free-to-download games are made, picturing murky programming bunkers on the off-grid outskirts of cities you've never been to, each packed with rows of whey-faced whizz-kids wondering when they might next see their families. Anyway, the designers and programmers, each allowed plenty of water and a living wage I'm sure, had done a good job with this particular game because the car my boy was hacking around an unspecified racetrack wasn't some vaguely familiar pastiche of several real-life sports cars: it was a Lamborghini Aventador.
> Lamborghini Aventador SVJ review - V12 power and tech turns in a mighty performance
My son was very excited about this. He likes the Lamborghini Aventador. 'Daddy! Look at my Lamborghini!' he said excitedly. 'Ohhhh yes,' I replied in that way that parents do when they think they're sounding interested while actually adopting the distant, distracted tone of someone who's unwillingly having income tax explained to them. Then I remembered something. 'You know what?' I said slowly, preparing to unleash a heroic fact I felt confident could make up for getting the beloved polystyrene glider stuck in a tree yesterday. 'Daddy has actually driven one of those.' Sensing this might not be enough, that my claim might be called into question by someone whose general understanding of lying extends little beyond blaming farts on his sister, I rifled quickly through my phone and there it was. A bright white Aventador, from the 2011 evo Car of the Year summit on and around the Portimão track in Portugal.
'There you are,' I said triumphantly. 'I drove that car.' The boy was impressed enough to look up from his tablet, and he usually doesn't do that even at the sound of his own name/some crisps being opened/a large explosion in an adjacent room. 'You've driven that?' he asked. 'I have,' I smiled. 'Oh,' he said brightly. 'What was it like?'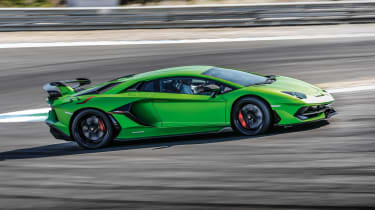 Now here's the problem: I didn't like the Lamborghini Aventador. For starters, it was too wide to enjoy on slender Portuguese roads, roads down which every other car in that year's eCoty seemed to fit just fine. Worse than that, I couldn't find a decent driving position, nor see out very well. So immediately I was on the back foot, feeling distinctly unrelaxed and frankly a little uncomfortable. Which might have been forgotten if the driving experience had been top notch but, to my mind, it wasn't. I found the big Lamborghini a bit heavy-handed, a bit oafish. Also, the paddleshifted gearchange was miles behind the state of the art, and that was before I'd experienced the senseless brutality of Corsa mode. In fact, I didn't know about that until John Barker and I were out on track for a sighting lap, Barker driving, when we tried it for the first time and felt the unsettling sensation of a mule-kick to the back while a wrecking ball hit the front bulkhead. 'Hmm,' said John, dry like silica gel. 'Won't be doing that again.' So no, I didn't click with the Aventador. I didn't even think the V12 felt as good as it did in the Murciélago and, just to show I'm not against large Lamborghinis, I really liked the Murciélago. Its successor, not so much. I remember coming away thinking the best way to enjoy an Aventador was from another car.
So what to tell my boy? The answer, of course, was none of this. To bog down a six-year-old with his dad's nerdish concerns about an ageing supercar is to completely ignore what supercars are about, especially if you're still in primary school. Supercars are meant to be exciting and dramatic and to look great when rendered by 100 programming students locked in a basement by an evil app distribution company. It doesn't matter how they drive. If you were really into that you'd get a Caterham or an Elise or a slightly smaller Lamborghini. An Aventador is pure showtime, and the way it speaks to my young son demonstrates that to a T. That's the job of supercars and it's not my place to spoil it.
Not for now, anyway. So, when asked by a six-year-old to sum up an oversized and idiotic relic with a bad gearbox, there was only one correct response. 'What was it like?' I repeated back to him across the kitchen table. 'It was really cool.'