Renaissance man - Albert Biermann and how he transformed Hyundai
His brief was an engineer's dream: to create and develop a new performance division from a clean sheet of paper with few strings attached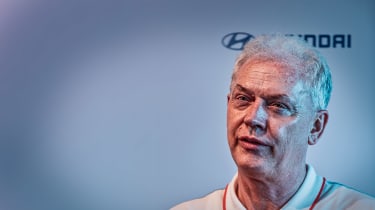 Albert Biermann is a name that German performance car fans might already recognise from his time at the helm of BMW's M Division during a golden era that produced icons like the E46 M3 and E39 M5, but it's his more recent work within Hyundai which has earnt him recent acclaim. Having joined Hyundai in 2015 to head up a new, grass-roots performance division under the N brand, Biermann explains exactly what he and his team have been up to over the last four years, and why this is such an important cornerstone moment for performance car design and engineering.
How did the N brand come to be, and what does it stand for?
Originally N stood purely for Namyang [Hyundai's main test HQ in South Korea] and it was always intended to be a high-performance brand for Hyundai. I'm not certain who came up with the idea originally because I was still at BMW then. But to be honest, when I first went to Hyundai my brief was to develop the N project, and I thought the Namyang reference didn't really mean anything to anyone outside Hyundai. So quite soon I came up with a more focused meaning that ties in with our test centre at the Nürburgring, and now N stands for both Namyang and the Nürburgring. At the same time I pushed really hard to make sure the products would be completely different to the regular models. Now here we are a few years later and it's going pretty well.
Now N is in the market, what have you learned, what would you do differently, and how does N grow from here?
We've learned a lot, obviously, and we are continuing to learn all the time. You never stop. I think we've got it pretty right so far and I will keep pushing and pushing to make sure we do it even better in the future. The only regret I have is that we didn't start this whole thing 20 years ago. I can't imagine where we'd be right now if we had! But that's the thing, it's the future that's the most exciting part of the N brand. We're still only just at the beginning.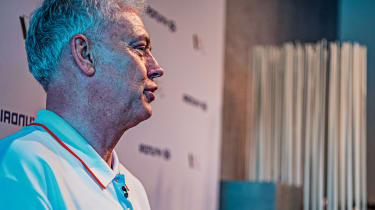 What new models are in the pipeline at the moment, and will you make even more focused N cars in future?
We have a lot of new models both in development and in planning. The N brand will, I believe, grow even faster over the next five years than it has over the first five. But I can't really talk about any of those models just yet because I'm not allowed to! Except maybe for the new eight-speed DCT that will go into the i30 N next year. And you already know about the lightweight i30 N we're doing [the Project C], but this will only be in left-hand drive for the German market and available in limited numbers. But look, these cars are still just the beginning. There is a lot more to come in the next five years, and yes, some of the cars will be even more focused on the enthusiast.
Now that it's established, how has N been received internally? Is it regarded as a success and do the cars make money for Hyundai?
A few months ago we realised the i30 N accounted for 28 per cent of all i30 sales in Germany last year. I was absolutely amazed, especially considering what the original sales forecasts for the N cars were. Yesterday I was told it's now 34 per cent. That's incredible. And I believe the proportion is only slightly smaller in the UK. These are numbers way, way beyond what anyone at Hyundai expected. So yes, you could say N has been received quite well internally! And yes, it does make good money for the company.
Has the development of future N models changed since the launch of the first cars?
N is evolving all the time. It's a brand that will grow and expand much more quickly in the future. We change things all the time at Hyundai – this is one of the great things about the company because it's family owned and we can react and change stuff much faster than other big car companies, depending on what we want to do and where we think the market might be going. This flexibility is absolutely key to giving Hyundai an advantage. 
Is there a financial limit on cars within the N brand, or is the sky the limit?
All N cars need to be sensibly priced relative to whatever rivals they are in competition with. But as you'll see in the near future, there are no specific financial limits to what kind of cars we will make. If I think it's the right time to make a mid-engined N car that can rival a Porsche, and when we think it's the right time to make that car, we will make it. It's that simple. Maybe the powertrain might be a bit different to a conventional Porsche's, but philosophically there are no limits. As I say, we really are just at  the beginning.