Honda Civic Type-R buying guide EP3 and FN2
The high-revving Type-R is one of the most reliable hot hatches money can buy. And that money could be less than £3000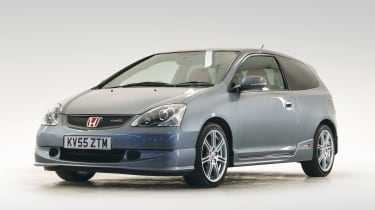 Honda Civic Type-R (EP3) buying guide
The latest generation Civic Type-R (FK8) has arrived on the hot hatch scene. It feels worthy of its namesake and distant predescccor the EP3 Civic Type R. We look back at why the 'Breadvan' Civic Type-R was a sucess and how you should go about buying one today.
197bhp. Small fry by today's ludicrous hot hatch standards – the new Audi RS3 is packing exactly double that. Rewind to 2001 and such numbers were music to the ears of those working (/browsing the classifieds) in the evo offices. 'The specification suggests the Type R is about as focused a front-drive machine as there has ever been,' we declared in our original Driven review (evo 035).
A top speed of 146mph and a claimed 0-62mph sprint time of 6.8sec told little of the story. The EP3 Civic's performance was something that had to be experienced rather than read to understand how unique and special it was.  Yes, i-VTEC was the wizardry at work that delivered an extra punch on the shift of the cam profiles at 6000rpm.  Maximum power arrived at 7400rpm, 400rpm short of red line. The effervescent power delivery was actioned through a deliciously precise six-speed manual transmission.  
'I bought one'
'I've owned my 2006 CTR for nine months now, though in fact it has been in the family for more than five years. It was my mother's car before – she agreed to part-exchange it for my 2008 FN2 Type R GT when I needed some cash for the purchase of my first home! In fact , when I was a teenager I made sure I sealed the underside, as I reckoned I would probably end up with it at some point! It's a late-2006 run-out Premier Edition, so it's got all the good bits.
'The gearchange was a bit obstructive when I first got the car, but a new OEM clutch and 2 litres of MTF-3 transmission fluid soon had it feeling good as new. The K20 powerplant mated to that slick, close-ratio six- speeder still excite to this day. Coming from the FN2, the EP3 feels very analogue in its power delivery, with an obvious power surge in VTEC, although it will happily pootle around at 30mph in sixth.
'I've covered 6000 miles so far, taking the total to 72,000. Running costs are reasonable in performance car terms. I average 28-30mpg but I have seen 35-38mpg on long journeys. Tax is relatively hefty at £303 a year and, being in my mid-20s, regular insurance companies weren't willing to quote, which led me to a specialist insurer.
'It really is a great all-rounder. Handling-wise, the front end feels agile and the rear lively, which contributes towards an Integra Type R DC2 kind of balance. The pedals are nicely weighted and the steering, while not go-kart-like in feel, is more than acceptable and a positive improvement over the 2001-2003 model. It's a car you could track on Sunday and commute to work in on Monday, which is a credit to Honda's engineering.
'What next? Having got a taste of track driving at Croft and Knockhill, I've acquired a rebuilt gearbox complete with the almost-obligatory limited-slip differential'