2018 Ford Mustang Cobra Jet to crack the quarter-mile in sub-9 seconds
A limited upgrade package developed by Ford Performance manifests itself in a drag-strip special – the 2018 Ford Mustang Cobra Jet.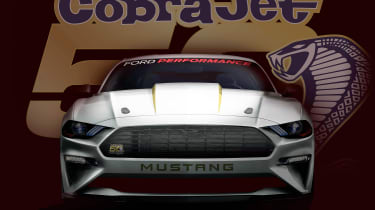 Ford is taking aim at the drag strip with the all-new 2018 Ford Mustang Cobra Jet. Upgraded with an amalgam of parts plucked from Ford's Performance Parts catalogue, Ford hopes the Cobra Jet will dispatch the quarter-mile in less than 9 seconds, clocking speeds in excess of 150mph in the process.
To achieve the above targets, a composition of hand-picked aftermarket parts, offered by Ford Performance, have been combined with specialised drag hardware. However, Ford has been vague in detailing what exactly constitutes the whole turnkey upgrade package, which is limited to 68 examples, with the full specification to be disclosed in the summer.
> Shelby Mustang Super Snake review – A wild supercharged muscle car
What we do know is power will come from a supercharged 5.2-litre Coyote V8. As for the suspension, there's a multi-link set-up out front and a 9-inch live-axle beam at the rear, with coilovers all round to keep the Weld Racing wheels grounded. Inside, a NHRA-certified roll cage is fitted to ensure the occupants' (sat in the Racetech FIA seats) safety in any potential accident.
We can hazard a guess at the power output being at least 1000bhp to achieve the ambitious targets. For reference, the Dodge Demon needs 828bhp to cover the quarter-mile in 9.65 seconds – travelling at 140.09mph when it crosses the line.
The evocative nameplate first appeared in 1968 on a Mk1 Mustang which dominated the National Hot Rod Association (NHRA) Winternationals. Since then, Ford has produced further iterations of the Cobra Jet based on more recent generations of the Mustang. The car will be homologated for NHRA drag racing, along with several National Mustang Racers Association and National Muscle Car Association classes.
The Cobra Jet will be offered in either Race Red or Oxford White and receive 50th anniversary badging to mark five decades-worth of Cobra Jet Mustangs. Pricing is expected to be issued alongside the final specification.