Spare your neighbours a rude awakening with the Ford Mustang exhaust scheduler
Ford keeps the peace with optional Mustang exhaust that allows the V8 to start and run in a more silenced fashion during preset times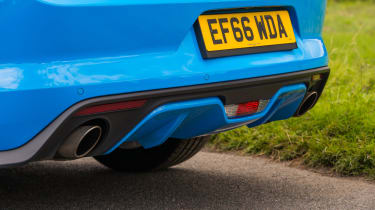 The Ford Mustang's quiet start feature has a scheduling function allowing owners to pre-select time periods for hushed starts. It's difficult to imagine the owners of many Mustangs wanting to pass under the radar, but Ford has developed 'Good Neighbour Mode' to help keep the peace among locals.
You might think that hearing the Mustang GT's 5-litre V8 catch with a rambunctious roar before settling into a lumpy idle is all a petrolhead needs to start a day. But one such petrolhead was a Ford employee and his neighbours weren't so sympathetic to the Mustang's throat-clearing morning routine, calling in the constabulary to have a quiet word with the Ford man.  
> Read our review of the Ford Mustang GT350R
This employee reported back to Ford engineers who responded with Good Neighbour Mode. Owners can now set periods at less sociable hours where the Mustang's powerplant will rise to life without such a rumble. The Mustang isn't the first to offer a quiet start feature, see the Aston Martin DB11, although it is the first to allow you to preset times where a quieter start is deemed necessary.
There's a good reason why most cars sound louder when they start, though. Cold engines use higher fuel to air ratio and higher idle RPM, which is partly responsible for the increased volume. What's mostly to blame, on modern cars at least, are systems that ignite unburnt fuel in the exhaust systems to try and warm up the catalytic converters as quickly as possible.
Quiet Start comes as part of the optional active valve performance exhaust system. As well as being socially responsible when you turn the Mustang on, the optional exhaust includes a mode for quiet running as well as increasingly louder Normal, Sport and Track settings.
> Find out what the Sutton CS800 Mustang is like to drive
Although not standard, the new Mustang's system isn't dissimilar to the aftermarket system we tried on the modified Sutton CS800 Mustang. The exhaust allows you to choose locations via an app where you want the car to be quieter. Then, when you cross the selected perimeter, it switches to a muted sound.