Ford Mustang hits the wall with 2-star Euro NCAP score
Lack of modern safety technology and other flaws mark Ford's sports car down in the latest round of tests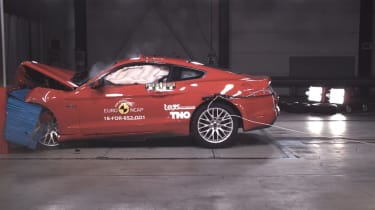 The Ford Mustang has plenty to commend it: It looks fantastic, brims with character, and it's great fun to drive, even if it lacks the sophistication of some European rivals.
Unfortunately, a high safety rating from Euro NCAP is not among the Mustang's merits, with the safety body awarding Ford's pony car just two stars out of five in its lastest round of assessments.
That's the lowest score a brand new vehicle has achieved in quite some time, with several aspects marking down the 'Stang's performance. Among those were the front driver and passenger airbags' failure to inflate fully enough to properly restrain occupants, a lack of seatbelt pretensioners and load-limiters on the rear seats, and in the side impact, the head of a representative 10-year old dummy striking the door trim below the curtain airbag.
> Read our full review of the Ford Mustang
The score can also be explained by Ford's failure to fit some pieces of safety equipment now fitted to a large majority of cars in the European market, namely Forward Collision Warning - a system fitted to models sold in the US, but not currently fitted to European models.
While the latter is a strange situation, it's worth noting that the Mustang has scored well in current US crash tests from the Insurance Institute for Highway Safety (IIHS), and the National Highway Traffic Safety Administration (NHTSA).
The Mustang scored "Good" ratings in all but the IIHS's small front overlap test - an incredibly difficult scenario in which a car crashes into a rigid barrier at 40mph across only 25 per cent of its body width, compared to 40 per cent in normal offset tests. In NHTSA tests the Mustang scored five starts in every metric, including roll-over testing - an American standard not assessed in Europe.
> 2018 Ford Mustang - Facelift and extra power for popular pony car
As such the Mustang can't be categorically described as an unsafe car, and indeed a two-star car in 2017 could even be considerably safer than a five-star car from a decade ago, given the way safety regulations and testing have progressed.
It is however quite embarassing for Ford, which has confirmed it will soon fit Pre-Collision Assist and Lane Keep Assist when the facelifted model arrives.
Elsewhere in Euro NCAP testing, Volvo continues to uphold its reputation for safety, with both the new S90 and V90 joining the XC90 as the safest cars the body has ever tested.