Ford Racing Puma bodykit – Art of Speed
The Ford Racing Puma's bodykit is an iconic piece of automotive design, but there's more to it than meets the eye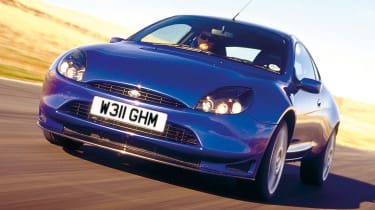 Familiar with the Tickford Capri of 1982? Looking like a Group 2 machine that escaped Touring Car enslavement only moments before the sponsor livery arrived, it sported skirts and bumpers that draped provocatively to the tarmac and a blanked-off snout that gave it an unhinged demeanour. And yet despite the nefarious aesthetic and a 205bhp turbo V6, it sold poorly and was eventually killed off by the Sierra RS Cosworth, which was less expensive and even faster. 
Tickford's take on Ford's pert Puma nearly 20 years later was a similar story. This time the bodykit was considerably more curvaceous, but again the car was a commercial flop. In 2000 the Racing Puma came in at £22,750, whereas a Subaru Impreza Turbo cost £20,950, was much faster, more practical and had genuine motorsport pedigree, so no contest. 
In the end Ford's ambition to shift 1000 cars proved way off the mark. Just half that volume was realised while something of a Scooby infestation took root in the UK. In fact, with fewer than 200 customer orders placed and marketing executives beginning to lose all hope, one of the greatest drivers' cars ever to wear the blue oval would surreptitiously appear on Ford's company-car scheme.
> Ford Puma - review, history, prices and specs
Each Racing Puma started out as a standard Puma built at Ford's Cologne plant. Upon arrival at Tickford's workshop in Daventry, a 12-stage conversion took them from tasty but tame to the embodiment of attainable exotica. The 1.7-litre Zetec engine was rebuilt with a new inlet manifold, new camshafts and a sports exhaust, Sparco seats that fitted the driver like a glove were installed and 17-inch Speedline alloys bookended tracks widened by 70mm at the front and 90mm at the rear. 
Then there was the bodykit, the effect of which was to transform a car that was simply cute into one that was cute in a break-your-face kind of way. With the addition of a carbon splitter and wheelarches that were flared to Alan Mann specification, no one would have guessed the Racing Puma had its roots in the humble Fiesta.
But the kit hid a dirty secret. While the front wings were hydroformed aluminium, the rear quarter panels were steel. Not only that – where the donor car's front wings went straight in the skip, the rear panels did not; Tickford merely bonded the new bodywork on over the top, which accounts for the car's surprisingly heavy kerb weight. Unforgivable? Well, yes, especially in a car that pitted a paltry 153bhp against 215/40 Pirelli P7000 rubber. It did look rather tasty, though…