Will the 2015 Ford Focus RS drift? See it in action here
Watch Ford's forthcoming hot RS get thrashed in this new teaser video
We're seriously excited about the arrival of Ford's next Focus RS. Promising to be faster and harder than its predecessor, the Honda Civic Type-R rival could produce as much as 350bhp.
But can that power be used to create vast yaw angles? Surely, a question everyone's been dying to find the answer to. Thankfully we now know, because Ford's latest teaser video shows the fast Ford being driven very, very hard.
>Read - Ford Focus RS confirmed for 2016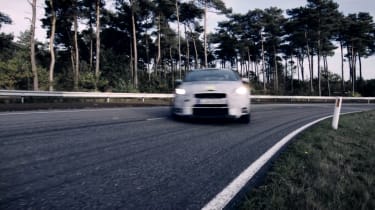 As expected, the RS will be firmly sprung - testing on the Nordschleife will have no doubt influenced the setup - with the video confirming rear-wheel cocking, a darty nose and the ability to sustain four-wheel drifts are all characters the new car will posses.
Right now, the car is undergoing aero-testing, so the yet to be revealed body will be receiving its final tweaks and finishing touches. Other than that, the car looks complete: expect the latest One Ford design language - recently revealed in ST form here - to get a slight 'bulking up.'
In short, we can't wait to get our hands on one. The car will be unveiled on 3 February, with first tests following before the car goes on sale in the second half of 2015.