Fiat Panda 100HP
Business as usual with evo's fleet Panda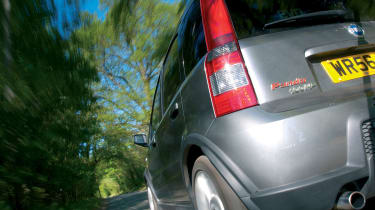 Had an interesting email the other day from the UK representative of Cobra Suspension. Seems he's been following our Panda reports and noted our thoughts that the 100HP's suspension is too punishing. To cut a long story short, he's going to supply us with a set of springs to try with the standard dampers to see what we think. Cobra's engineers are in the process of developing the new springs and we're hoping to give some feedback. We'll let you know how it all goes.
Otherwise, there's little to report. No problems, faults or unexpected costs, but plenty of good, uncomplicated fun. I have noticed that in the recent deluges the Panda's been a little more wheelspinny than usual out of roundabouts, but there's plenty of meat left on the Goodyears. Maybe I'm just asking too much of the tenacious little Fiat's traction.
Whatever, with the Panda being pretty benign you can really take liberties without fear of any genuine lift-off oversteer nastiness, yet the way a lift on turn-in brings the tail into play just enough to tuck the nose in can be hugely satisfying. It's just a shame the ride is so uncompromising. Here's hoping those springs are the first step towards a truly rounded set-up.
Running Costs
| | |
| --- | --- |
| Date acquired | December 2006 |
| Total mileage | 6041 |
| Costs this month | £0 |
| Mileage this month | 303 |
| MPG this month | 39.1mpg |