Fiat Panda
Cobra springs fail to fix bouncy ride on Panda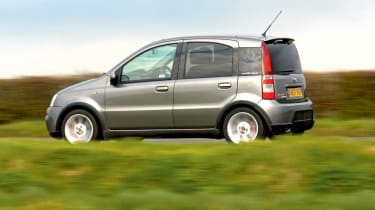 Regular readers may recall that, until very recently, we ran a Panda 100HP on our Fast Fleet. We loved everything about it, with one exception: its pogo-ing ride on bumpy B-roads. So when Cobra Suspension rang to say it had developed a set of springs that should make driving the Panda less punishing, we were keen to give them a go.
With our long-termer gone, evo reader Stuart Ash kindly volunteered his 100HP to be our guinea pig. The first thing we noticed about his car on the new springs was that it was sitting around 25mm lower. How exactly would this improve matters? The answer came at the first speed bump: it wouldn't. The 100HP crashed over it as if there were no springs fitted at all…
On a flowing road the Panda's turn-in was marginally quicker, but the horrendous trade-off in ride comfort simply wasn't worth it. At the end of the drive a look underneath the car revealed that the rear suspension was now sat so low, the bump-stops were permanently against the chassis, so effectively there was zero suspension travel at the rear.
Cobra is looking into the bump-stop issue, but for the moment keeping the springs standard and holding on tight remains the best option.
Specifications
| | |
| --- | --- |
| Engine | In-line 4-cyl, 1368cc |
| Max power | 99bhp @ 6000rpm |
| Max torque | 97lb ft @ 4250rpm |
| 0-60 | 9.5sec (claimed) |
| Top speed | 103mph (claimed) |
| On sale | Now (www.cobra-suspension.com) |