Fiat Panda Africa record run - Day 7
A British team aims to beat the Cape Town to London record journey time in a humble Fiat Panda TwinAir. Reports here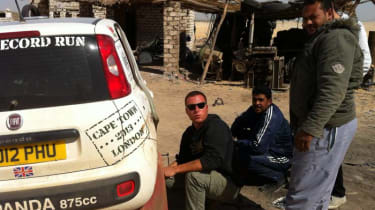 Paul Brace (of Eagle E-Types) and Philip Young (a serial long distance classic rally competitor) are going to attempt to drive from Cape Town to London in record-breaking time. The current record for a trip stands at 11 days and 14 hours and was set by three men using a Land Rover Discovery. However, Brace and Young are confident that they can beat this time despite the only being two of them and a small, 875cc, front-wheel drive Panda, which they chose after reading evo's twin test against a VW Up in issue 171.
The trip is being undertaken in aid of the charity Farm Africa and all things being equal they will set off from Cape Town on February 1st (the car is currently somewhere in the south Atlantic on its way to Cape Town). You can find out more about the adventure and sponsor them on www.africarecordrun.com and you can follow the valiant duo's progress here on evo.co.uk...
February 7 - day 7
It's been a great day for seeing a huge chunk of Africa roll under our wheels. From the Nubian Desert north of Khartoum, and across the Nile and on through the Eastern Desert we saw nothing but sand today. Then the drive up the side of the Nile from Aswan to Luxor gave us more sand out over our left shoulders... the edge of the Sahara.
Today we have certainly covered a tremendous amount of ground. The two cylinders of the Twin Air have had a lot of hot work to do, but interestingly when we lifted the bonnet at mid-day yet again no water was needed - we haven't topped up the radiator since the day the car was shipped out of England. Given it's a tiny turbo working its guts out that's impressive, and a credit to the Evans Coolant we are using. Also, again, no topping up of oil is needed either - by now we expected the engine might like a drop of fresh Red Line oil, but the dip stick says otherwise.
We stopped to fit our spare pair of rear shock absorbers, drop the sump guard and give it away - surely we have seen the last rough patch - and change the wheels around. The front tyres, being bald, now run on the back. We are taking time out in Cairo to visit a tyre dealer to buy two new tyres. The Firestone van tyres have been impressive, good in sand and not a single puncture so far, but two won't be going any further.
But... we spoke too soon and jinxed it. Driving through Cairo the Panda ran over a patch if glass - we collected four punctures, but deflating sufficiently slowly we made it a tyre repairer. We have managed to buy three and repair the best of the Firestones. We have also lost some time.
Later we are off to the Libyan border - full of hope but feeling anxious. All foreigners are banned - officially. Surely, even the toughest Kalashnikov-carrying border guard has a heart that can be melted by the sight of our Panda. In eight hours' time and after a drive across the top of Egypt, passing El Alamein, we will find our answer. You can follow the team on Twitter or Facebook
Read the report from day 6 here