Fiat Panda Africa record run - Day 5
A British team aims to beat the Cape Town to London record journey time in a humble Fiat Panda TwinAir. Reports here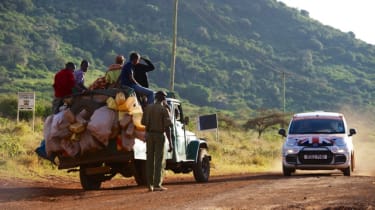 Paul Brace (of Eagle E-Types) and Philip Young (a serial long distance classic rally competitor) are going to attempt to drive from Cape Town to London in record-breaking time. The current record for a trip stands at 11 days and 14 hours and was set by three men using a Land Rover Discovery. However, Brace and Young are confident that they can beat this time despite the only being two of them and a small, 875cc, front-wheel drive Panda, which they chose after reading evo's twin test against a VW Up in issue 171.
The trip is being undertaken in aid of the charity Farm Africa and all things being equal they will set off from Cape Town on February 1st (the car is currently somewhere in the south Atlantic on its way to Cape Town). You can find out more about the adventure and sponsor them on www.africarecordrun.com and you can follow the valiant duo's progress here on evo.co.uk...
February 5 - day 5
The worst 24 hours on the worst road. Progress was really slow, with us averaging less than 20kph. Neither of us could risk any sleep, and several times we nearly got stuck in sand but the Panda unbelievably just kept dragging itself through. They had laughed at our little Panda back in Marsbit, but when our escort's Toyota got bogged down in the sand and the Panda (on its Firestone 6ply van tires) simply surfed away there was respect on their faces.
This was bandit country and being abandoned here was not an option. We reached the border at Moyale with a little time to spare and managed to get an hour of sleep.  We were looking forward to a nice tarmac road but instead were diverted on to a poor gravel diversion for 300km and then found there was a shortage of fuel. So several hours were wasted trying to find enough to fill both tanks plus a spare can. With any luck there will be more in Addis to see us to the Sudan border. Once again we are behind schedule and struggling. On the bright side the Panda is holding up incredibly well, exhibiting only the smallest of rattles and bumps to show for all this rough treatment. Oh and the rear shocks have gone, but we have spares and when there's some time they will be fitted. We also heard today we have reached and passed our target of £10,000 for Farm Africa so we'd love to push on and double it!
Tonight will be spent traveling through the Blue Nile Gorge, just a shame it will be so dark...You can follow the team on Twitter or Facebook
Read the report from day 4 here
Read the report from day 6 here