Fiat Panda Africa record run - Day 1
A British team aims to beat the Cape Town to London record journey time in a humble Fiat Panda TwinAir. Reports here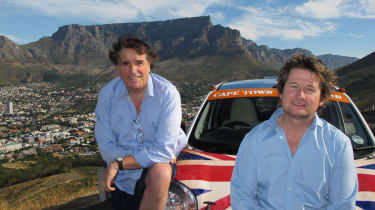 Paul Brace (of Eagle E-Types) and Philip Young (a serial long distance classic rally competitor) are going to attempt to drive from Cape Town to London in record-breaking time. The current record for a trip stands at 11 days and 14 hours and was set by three men using a Land Rover Discovery. However, Brace and Young are confident that they can beat this time despite the only being two of them and a small, 875cc, front-wheel drive Panda, which they chose after reading evo's twin test against a VW Up in issue 171.
The trip is being undertaken in aid of the charity Farm Africa and all things being equal they will set off from Cape Town on February 1st (the car is currently somewhere in the south Atlantic on its way to Cape Town). You can find out more about the adventure and sponsor them on www.africarecordrun.com and you can follow the valiant duo's progress here on evo.co.uk...
January 30 - the lead-up
It was a tense moment at Cape Town's docklands this morning when the time came to open the rusty brown doors of the shipping container. The Panda was well boxed in, almost literally, with planks of wood nailed to the floor at the front and rear of each wheel. The CARS team had also roped the car from any further movement with a lashing to the front nudge bar. Crowbars and hammers were found, then a careful inspection in case any protruding nails had been missed.
A note on the windscreen said "battery disconnected" but we hoped this was just a bluff to impress officialdom. When the Panda refused to show the slightest signs of life even with the help of a giant fork-lift truck battery we had to believe the note. After clipping an elusive dangling earth lead to the bare post on top of the aptly named Odyssey battery our two cylinder turbo began purring in satisfaction.
The rest of the day has been spent blowing the diet plan on bumper breakfasts and cream teas in the splendid surroundings of the Mount Nelson Hotel before packing the car - which saw the first heated debate. This resulted in a shopping trip for a scissor jack, to replace the unused bottle-jack, the reasoning being that saving three pounds in weight will make a difference. Equally, lots of items have been dropped simply because there is no more space without compromising the rear sleeping area.
Our inner tube, air compressor, and puncture repair kit - vital kit when you only have one spare wheel - have also been left out. They are going to Nairobi - before our terribly rough day crossing the desert if Northern Kenya. Clothes and personal items are reduced to such a minimum that Paul says he knows of a handbag carrying more life-saving equipment than we have.
What's left to do? Shrink the new shorts, hopefully with a swim in the pool; sort out how to get planned TV footage of us crossing of the Zambezi back to ITV in time for Fred Dinenage's South of England regional news next Monday; we also have to finalise Gerard Brown's photography schedule that needs pictures to land on the Sunday Telegraph picture desk to tight deadlines on Saturday. Then we have to shop for Kendal Mint Cake, Paul reckons it helps to keep him awake - and sample the fillet steak of Mount Nelson's restaurant.
There's much to do, with no lazy extra hour in bed to start our final pre-start day tomorrow... we have to cross town to the Expresso studios of South Africa's top breakfast TV show before 6.00am as the car and crew are due in the studio for a live slot with the programme presenters. After battling through the snow meet ITV's Fred Dinenage in Portsmouth last week the Expresso breakfast show should hopefully be a reasonably easy start to our last day before starting the Record Run.
We are naturally wondering what lies ahead. We hear it's now raining in Kenya. That could not be worse news. Does it mean the track across the desert will be rivers of red mud?  There is already speculation of extra delays getting a special barge to carry us over the Nile on the border between Sudan and Egypt... and what hope of the Panda getting into Libya? Politics in Africa, like the weather, can change fast - the outlook now looks so different from when we started planning this nine months ago.
Our next report will be on the road... ahead is 10,000 miles and the schedule is virtually non-stop. First hurdle is crossing the fast-moving waters of the Zambezi River, a few miles up-stream from Victoria Falls. If the game plan is working well, a pontoon will be waiting for us at the crack of dawn on Saturday, little more than 24 hours and 1500 miles from the imposing Greek-style gateway of the Mount Nelson. Almost as big as our finishing target of Marble Arch, Eric Jackson must have been truly exhausted to not find this impressive Cape Town landmark all those years ago.
February 1 - day 1 of the journey
The sun hung low over the Western horizon as we rolled downhill into the dusty town of Mafeking, the town embedded in the folklore of The Scouts movement, after running all day non-stop except for two fill-ups. We could have gone for super-long stretches between fuel stops, but decided the battle-plan would be to use only the Panda's standard fuel tank. We are saving the long range second tank for later as it keeps weight off the rear suspension, vital if we are to help conserve our shock absorbers.
Today has been uneventful as we set about establishing a shift system of three hours driving, three hours resting, and each of us found little difficulty sleeping on the move. Last night was restless for both of us.
The long ribbon of baked Tarmac with rich red earth on each side, with the odd stray donkey, has taken us to the town where army commander Robert Baden-Powell first won fame for withstanding a siege in the Boer War. In 1899, he kept the townsfolk of 1,500 residents together, against a siege of 8.000 South African troops for 217 grim days. Quite what the British were doing here in the first place was a basic question lost on public opinion back home, where every town and village organised wild celebrations at "the Relief of Mafeking". Later Baden-Powell went on to form the Boy Scout movement. We would like to think he would rather approve of our little initiative test as we grapple with maps and a compass.
Today Mafeking is an untidy scruffy and run down mining town, shabby streets lined with litter. You would struggle to find anything you could regard as attractive - and we failed to find any reminder of those who lost their lives in the Alamo-style conflict that made this town famous for guts and determination.
The Panda Pair also struggled to find some fast-food joints. Having got here with a little time in hand, a pizza or burger seemed a good idea but we contained our hunger and kept the wheels turning. The sun finally gave up its struggle and fell behind the far horizon as the Panda made its way out of town, heading to the frontier of Botswana. A long night is ahead - when we next see the sun we hope to be approaching Zambia.
Read the report from day 2 here