A dead Ferrari F40 in Switzerland – evo Archive
The story of a Ferrari F40, a flat battery, Swiss chocolate and sex toys…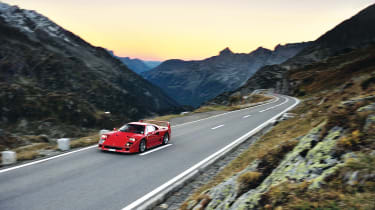 'My favourite photo from all my time on evo,' recalls Dean Smith, 'has to be the first one I took of the F40 in Switzerland [evo 199]. The second one was actually pretty good too.'
We had driven up to the top of the Susten Pass and initially Dean was sceptical about the road because we seemed to be driving through trees for ages with no views at all.
'Then we emerged into this incredible, soft early-morning light that was turning the tops of the mountains pink. The pop-up headlights were raised on the Ferrari and it just looked perfect. We might never have got that shot, though, because we were meant to arrive the previous afternoon if you remember…'
The reason for the delay the day before was an F40 with a flat battery. When we had arrived at the underground car park in Zurich to pick up the Secret Supercar Owner's car (look him up on Twitter and Instagram) we had discovered an unplugged trickle charger and an immobile Ferrari. We plugged it back in, went to find coffee and then came back a couple of hours later to a more mobile supercar.
> Evolution of the Ferrari GT: 365 GTB4 Daytona to the 812 Superfast
'And do you remember where it got us to?' says Dean. 'We stopped at that service station which had a large selection of Lindt chocolate on one side and a massive choice of sex toys on the other! Then we discovered the car was dead again so I had to push-start it and you had to drive it back to Zurich trying not to stall it in rush-hour traffic.'
Eventually, with a new battery installed, we headed south for a second time. I think Dean asked to stop at the same service station again. Probably for chocolate…
I remember we stayed in a hotel in Meiringen with a horribly narrow entrance to yet another underground car park. I remember the sound starting the V8 up in the same car park early in the morning. I remember a drive up the Grimsel Pass late in the afternoon, sliding the Ferrari out of the sunny hairpins, riding the boost (you don't really have a choice) and being thankful for the precision the lateral stiffness of the rear end gives. And then we drove home. To the UK. In the F40.
'It was absolutely a dream come true to drive that car – a car that had been a poster on my wall,' says Dean. 'It was one of those moments that you always hope might happen one day if you work for evo. Of course, I kept wishing that we weren't on the autoroute so much, but then I was also glad that being on the autoroute meant I was less likely to crash. I also remember it was too loud to talk to each other. Probably a good thing.'
And then there was the moment somewhere in France where we stopped to check the oil. We had been informed that, if possible, it should be inspected at certain intervals (I think 500 miles/800km, but I'm not sure) so we dutifully pulled into a lay-by and propped up the huge rear clamshell. There then ensued a lengthy period of time with two dipsticks, looking for a third. Google is mysteriously silent on the matter (just as it was at the time, frustratingly) but I think we found it under the oil cap. And, in case you ever find yourself in this everyday sort of situation, you need to check the oil within a few seconds of stopping the engine. You're welcome.
Back in the UK we drove through torrential rain at night, which was pretty terrifying. However, as Dean recalls: 'It also looked so incredibly cool that if we could have got a photo with all the spray and the lights in the dark it might have even topped that one up in the mountains. What a car. What a trip.'