Ferrari California
Ferrari's California launch website has been updated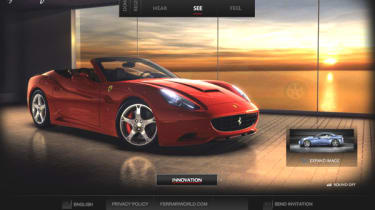 Ferrari's official California launch website ferraricalifornia.com is now displaying more imagery, teasers and videos of the newcomer.
The site originally featured a countdown for the publication of images, but was cruelly sidelined as a marketing tool as photos were released to the press ahead of the site. Ferrari has reacted quickly to the situation and added downloadable wallpaper, additional photography and videos.
Check out the grace and speed (15 seconds) of the retractable hood going about its business and listen to the engine getting a work out. Super stuff...
http://www.ferraricalifornia.com
Extra Info