Ferrari 599XX Evolution
Ferrari cuts weight and squeezes more power from its 599XX track-special supercar. Meet the 740bhp 599XX Evolution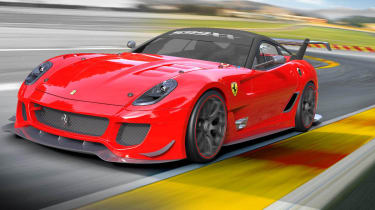 Ferrari will be unveiling its new Evolution package for the 599XX track car at this year's Bologna Motor Show. The package will be available to clients participating in the 599XX's track-based research and development programme for the 2012-2013 seasons. The most significant development has been the introduction of a new aerodynamics package with an active rear wing – similar to those already in use in F1. Flaps on the wing rotate electronically to adjust the downforce between the front and rear axles, resulting in better performance whilst cornering. The new aero pack also includes a modified front splitter and a new rear diffuser. At 124mph, total downforce is increased to 330kg with the rear flap open and 440kg when closed.  The adoption of side exhausts has allowed Ferrari to increase engine power by around 20bhp – to a huge 740bhp, while torque is up to 516lb ft. When combined with a shorter final gear ratio, a weight-loss of 35kg and new Pirelli tyres it means that the car can lap Ferrari's Fiorano test-track in 1min15sec – shaving a substantial 2sec off the original 599XX's lap time while being 9sec quicker than a 661bhp 599 GTO. Also on the stand at Bologna will be the car that won the driver and team titles in this year's Le Mans Series – the AF Corse-run 458 Italia GT2. Completing the line-up of competition Ferraris at the show is the 458 Italia GT3 and one of the most technologically advanced track cars, the FXX. The show will culminate in a demonstration of the 2010 Ferrari F10 Formula 1 car, which will be driven by ex-Ferrari and Renault driver Giancarlo Fisichella.
Ferrari 599XX battles the Nurburgring
Ferrari 599 GTO versus Lexus LFA...