Le Mans 24h winning Ferrari 275P could become world's most expensive car
A Ferrari 275P will headline the Retromobile 2018 auction in Paris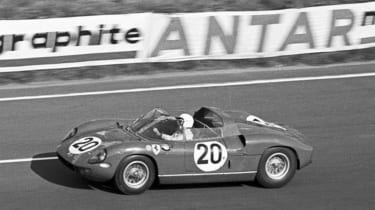 February 2018 could be a date etched into the automotive auction annals when a Ferrari 275 Prototype crosses the auction block with record-breaking potential. It could become the most expensive car in history.  
The Ferrari 275P has emerged from the Bardinon Collection, made up of tens of Ferraris, including four 24 Hours of Le Mans victors, the 275P perhaps the most prized of all. Branded with chassis number 0816, the car collected the highest honour in the world of endurance racing in 1964, clocking an average speed of 122mph over 2918 miles. It marked the final time the factory team would stand on the top step of the podium at the Circuit de la Sarthe.  
The number 20 car was pressed back into service on the American endurance circuit by a new, US-based, keeper during the following five years, the two-seater spider participating in the 12 Hours of Sebring and at the Road America 500 three times. 
> Click here for a list of the most expensive cars sold at auctoin
The featherweight racer – tipping the scales at 775kg (dry) – featured a small capacity 3.3-litre V12 mounted amidships that could muster a healthy 316bhp at 7700rpm. What it must have sounded like surging down the Mulsanne Straight one can only imagine. The V12 orchestra continued to serenade motorsport spectators as the same engine could also be found in the Ferrari 250 LM that also competed in the mid '60s. 
This rare Maranello masterpiece is a shoo-in to place amongst the ten most expensive cars to sell at auction. Where the 275P slots into the list will depend on whether the car captures prospective owners' imaginations and has them reaching for their wallets. A sale price north of US$38,115,000 would see it demote the Ferrari 250 GTO sold in 2014 to second place, which incidentally currently shares garage space with a Ferrari 335S which was also formerly owned by Bardinon.
In spite of some reports that classic car values are falling, the final call on the hammer dropping could provide contradicting evidence, indicating strength at the top end of the market. The upcoming sale will continue the break-up of the late Pierre Bardinon's Ferrari collection – that was rumoured to include 300 examples including a 330 P4, 250 TR and an Enzo – which has been housed at the private race track that lay within the Bardinon family grounds.