BMW M Coupe (1998-2002) - review, specs and buying guide
The M Coupe still divides opinions today, but if you fancy one here's what you need to know before buying
For proof that the BMW M Coupe wasn't taken to the motoring community's hearts when it left Bavaria, you only have to look at its nicknames. Called a hearse by some and clown shoe by others, the M Coupe has since gone onto achieve cult and classic status. If you're tempted to splurge £25k-plus one on, here's a guide on how to do it right.
Arriving two years prior to the millennium, the M Coupe was exactly what the doctor ordered for BMW. What they conceptualised was a Motorsport division mash-up; packaged into a pocket-sized, angry hot-rod. The 317bhp, straight-six motor was pulled from the E36 M3 Evolution and lowered into a Z3 M shell, stiffened and canned with a new fixed roof.
Much like a fine wine, the M Coupe needed time to mature, ruminating in minds before becoming appreciated. Today, its shooting brake body style is all the rage, and the once frowned upon M car has undergone the ugly duckling to swan metamorphosis. You can't avoid being drawn to it's squat, foursquare footprint and small, cool profile. 
The first generation, referred to by its engine codename - S50 - left the factory devoid of any driver aids. While 317bhp won't prick neck hairs as it did in 1998, it was ample, and plenty to overwhelm the rear 245/40 ZR17 tyres.
The oddball looks and barechested persona required to drive the M Coupe translated to the meagre production volumes. When the curtain came down on the S50 in 2000, 821 right-hand-drive units had sold globally. Subsequently it was replaced by the S54 a year later. The S50s slow sales predicated the uptake of it its successor — 168 right-hand-drive cars rolled off BMW's production with 123 destined for UK shores. 
Unfortunately, the lesser spotted S54 is the real gem. The obedient few will recognise the minor aesthetic changes that differentiate the two generations. Below the bodywork it was wholesale change though: the E46 M3, S54 engine was substituted in for the S50 block, elevating power by 3bhp and boosting torque by 3lb ft. The figures, though, do little to justify the improvements brought about from the newer engine. A wider spread of maximum torque (available from 1650rpm lower at 3250rpm) heralded punchier performance in the midrange, made more tractable by a drive-by-wire throttle smoothing out the power delivery. 
Swapping out the highly-strung S50 - that had to be revved hard - for the more usable S54 brought some extra refinement, albeit at the expense of the rawer nature of the S50. This rounding off of the M Coupe's sharper edges included the introduction of the DSC, traction control system as standard.
> Should you buy a BMW E46 M3?
Today an S50 can be garaged from £25k while another £10k will give you access the S54 market. You'll have missed the boat to make a quick buck on fast inflation. That said, the cars will continue to appreciate with so few made. Prices are yet to reach the point of ridiculousness, but this may be the final chance to get behind the wheel of a M Coupe for just about, justifiable money.
Checkpoints
Engine
The S54 engine was critically acclaimed in 2001 taking the title of International Engine of the Year. Despite its longevity and likely hard-pressed life, there are no glaring maladies to be aware of, provided - unsurprisingly- it's undergone regular servicing and maintenance. Russell Knight, of M Coupe specialist Knight's Garage, reckons these engines will do '100,000 miles without breaking sweat'.
Don't be too put off by distantly timed visits for a service as long as the miles stack up accordingly. Of course, evidence of annual servicing indicates a better cared for car. Service intervals are every 9,000 miles and 12,000 miles for the S50 and S54 respectively, with the latter going eighteen months between services.
If the straight-six isn't running as smoothly as it should and is coming up short for performance, there's a chance the VANOS variable valve timing system is faulty. It is a simple fix but not a cheap one, budget between £600-900. Listen out for a ticking sound emanating from the top of the engine, suggesting poorly adjusted valve clearances. BMW dealers and specialists should adjust them as a matter of due care at each service, but always check.
Malfunctioning oil pumps subject the S54 to crumbling crankshaft bearing shells — the biggest red flag of all. Despite the E46 M3 recall to swap out the shells under warranty, BMW did not extend the same generosity to the M Coupes. Although most owners will have installed new shells by now, request some paperwork to prove it. New shells will cost north of £750, but, more concerning is the prospect of an engine rebuild should they destruct in use.
Transmission
The five-speed transmission stands up well to the engine remaining wholly reliable. Some age induced slack may infiltrate the lever springs on high-milers, so there's noticeable slop when palming the shifter between gates. New springs are relatively cheap, but, it's a labour intensive process that needs the gearbox out.
Open the bootlid and peek under the carpet to inspect the edges of the bootfloor for any cracks. If visible, this can indicate failing diff mount brackets beginning to flex prior to failure — tearing at the boot floor.
Suspension, steering and brakes 
With not a lot of weight to lug (1375kg), the M Coupe isn't too mean on its brakes, so dics can go 20,000-30,000 miles. There's no obvious defects to upset the suspension, just regular wear and tear on consumables, such as worn rear suspension top mounts. Listen out for clunks and rattles from behind and that'll indicate they're due to be changed. 
Body, interior, electronics
A written off S50 isn't a rare thing with no electronic safety ready to catch you; it's imperative you check if you're prospecting a Cat D. If the body hasn't been properly and regularly attended to, rust will rear its browny-red head. Look for bubbling around the wheelarches and take a torch to asses the undercarriage.
Rivals
BMW E46 M3 Coupe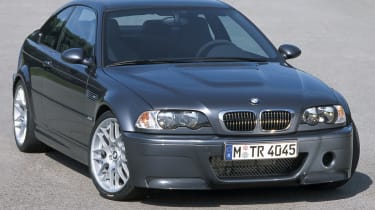 Housing an S54 in a slightly higher state of tune, the M3 is a more benign driving experience but makes do without the unique character of the M Coupe. Prices start from £8,000 (for a manual).
TVR Tuscan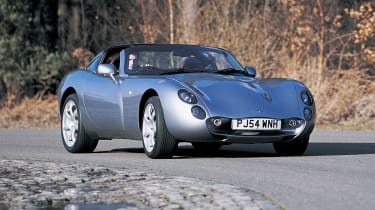 A fitting rival bearing the quirkiness and unhinged nature of the M Coupe, the Tuscan is in short supply as well. 350 to 400bhp is available, depending on the model. From £26,000.
Porsche Boxster S (986)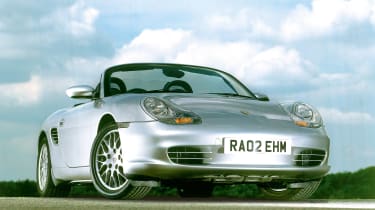 Down on power (250-256bhp) the Boxster engine may not carry the same charms as the M Coupe's. The main attraction though is the stupendous, malleable chassis. From £6,000.
What to Pay 
Now recognised as a fully fledged classic, the M Coupe is continuing to garner value. The baseline for privately sold cars is £20k with over 100,000 miles clocked up for S50s. More cherished examples with fewer miles turned beneath their wheels - say sub-50,000 miles - will have dealers looking for £35k plus.  There a few imports floating about so there's a small premium to paid for an original, UK registered RHD car. The ultimate combo of a RHD and low-mile S54 can fetch nigh-on £70,000.
In the Classifieds 
A FANTASTIC BMW Z3 M COUPE   £32,500
BMW Z3M M COUPE 3.2L 321HP S50 M-COUPE 05-99 BLACK 167870KM LHD
What We Said
GT group test evo 043, May 2002
"Having lived with this M Coupe for nine months and nearly 20,000 miles, I've come to appreciate its stunning turn of speed and grotesquely muscular looks, but I'm also aware that I've learned to live with its crude chassis and twitchy wet-road behaviour."
"After his late night dash here, John Barker clearly hasn't. "The M Coupe is very surface- sensitive,' he observes. 'The drive over in the wet and the dark was quite wearing, and on a couple of occasions I was glad of those patches of emery cloth-like Shell Grip they use on tricky corners. Those semi-trailing rear arms really are a throwback and kind of dissuaded  me from pushing hard through high-speed corners."
"Even moderate use of the throttle on wet tarmac kicks the M's tail loose and brings the rather clumsy stability control juddering into life. You need your wits about you, but crude underpinnings or not, the steering is ultra-direct and quicker reacting than the much-lauded M3's, with plenty of feel from the front end and strong resistance to understeer. Perhaps because you sit so far back, you're much more aware of when the rear-end is getting lively."
"One aspect of the car that never diminishes with familiarity is the engine, and its ability to fire the M Coupe towards the horizon like an unusually shaped artillery shell. It really is a magnificent motor. Whatever the gear, any throttle input whatsoever delivers a real kick in the kidneys."
I bought one  
Russell Knight
"I've always had an interest in BMWs, especially those that don't conform to the norm. So the Z3 M Coupe had an immediate appeal to me. I know plenty of people who didn't like it when it was new but have now grown to appreciate it. 'I bought my first one when I was 21 and before I went to work for BMW. It was an S54, a very rare model, metallic grey with a red and black interior."
"I wish I'd never sold it. I kept it for about a year and used it for some trackdays, a European road trip and a visit to the Nürburgring. It was very road-trip friendly, effortless and tireless. 'I then bought a Z4 M Coupe – I just assumed it was the right way to move on. But I soon found that I missed the Z3 M's quirks and charms and realised that I had to have another. 'Currently I have a black example with black interior that I bought about two and half years ago. It had 108,000 miles on the clock and I picked it up for £8500. Yes it was cheap, but I bought it on the understanding that there was a lot of work – a lot of expensive work – to be done on it. I'm turning it into a track toy and have stripped it of some of the heavy interior fittings and put on some lightweight panels so that it now weighs 1280kg. I've also installed a supercharger so that it now produces 497bhp…"
"Three and a half years ago I set up my own business trading in high-performance cars [Knight's Garage] and I've sort of specialised in Z3 M Coupes because I'm so passionate about them. With proper servicing and maintenance they're not fragile, even when hard-driven. I would always recommend a pre-purchase inspection by a reputable outfit such as Munich Legends, and don't be put off by a car that has had a lot of owners: strangely, some owners don't drive them much. ' To me the Z3 M is the essence  of a modern classic: it's fast, fun, practical, and with the S54 it's powered by the last of the great M-power straight-sixes."