BMW 6-series Coupe concept video
evo's Henry Catchpole guides us round the new BMW 6-series Coupe concept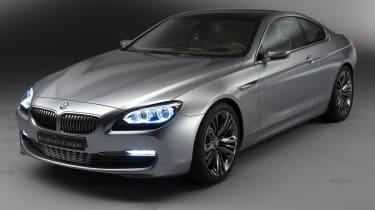 Meet BMW's long-awaited replacement for the 6-series coupe. Featuring less controversial styling than the love-or-hate design it replaces, the 'Concept 6-series Coupe' looks very much the F10 5-series in coupe form, albeit with styling cues from the Z4 roadster; a move that will surely allow the new 2+2 to appeal to a wider audience. It debuted at the 2010 Paris motor show.
BMW states that elements of the new 6-series Coupe's design are derived from 'wave motion on the surface of the sea', characterised by heavily sculpted panels behind the front wheels and a prominent kidney grille up front. The front wings feature M-style wing vents and there is a hint of the previous 6-series in the distinctive bootlid. The concept's focus is very much on providing a premium, luxurious feel to the new car, with features such as full LED headlights for the first time, imposing L-shaped taillights (also LED) and a full-length glass roof to allow plenty of light into the opulent cabin.
See a full picture gallery of the new BMW 6-series here Inside, a cacophony of different materials and textures are on show, from piano-black panels to two-tone leather and generous wood in-fill panels, many of which are framed by elegant silver trim.
Atop the dash sits a huge 10.2-inch widescreen display, used for the first time in conjunction with the latest generation iDrive system. The technology doesn't stop there either, with a head-up display, 16-speaker Bang & Olufsen stereo system, and a 'black panel' instrument display generating the dash information and dials electronically.
Although no details have been released as yet as to the engine choices, expect follow-ups to both the petrol-engined range and the popular 635d oil-burner, as well as an all-new BMW M6 to rival the Porsche 911.
See a full picture gallery of the new BMW 6-series here Click here for all our 2010 Paris motor show news BMW M6 v Audi R8 v Aston Vantage v Porsche 911 We review the diesel BMW 635d
Join evo's Twitter, Facebook and YouTube pages