BMW 4-series Gran Coupe review - price, specs and 0-60 time
A 4-series with added practicality: that's the Gran Coupe, here in top 435i spec
The latest in BMW's ever-expanding range of 3-series spin-offs, the 4-series Gran Coupe can be thought of as a five-door, hatchbacked version of a two-door coupe based on a four-door saloon.
The closest we can come to a description is a 'compact executive four-door coupe', but 'not-quite-a-saloon, not-quite-a-coupe' does the same job. Here, it's tested in range-topping 435i M Sport trim.
Engine, performance and 0-60 time
Compared with the regular 4-series coupe, the Gran Coupe has two extra doors, five seats and greater luggage capacity. And this in a bodyshell that's exactly the same size, down to the last millimetre, as the coupe. Weight distribution hits the 50:50 sweet spot, but the Gran Coupe is 65kg heavier than the coupe.
Our test car is the 435i Gran Coupe M Sport – the most powerful petrol engine in the range and the top trim level. It is rear-wheel drive, tops out at 155mph (limited), does 0-62mph in 5.5 seconds and has a smooth 302bhp, six-cylinder turbocharged engine. It costs £41,665. 
What's it like to drive?
To drive, the 435i Gran Coupe feels pretty much indistinguishable from the coupe, but undoubtedly sharper than the similarly-styled 3-series GT. It shares the same suspension and axle layout as the coupe, along with its slightly longer wheelbase and wider track, and despite two extra doors loses no structural stiffness. Impressive. 
The M Sport version has standard adaptive suspension and steering systems, and as you scroll from Comfort to Sport Plus you can feel the chassis tightening its grip on you and the road. Oddly, it's in Comfort mode that the Gran Coupe feels most, erm, comfortable with itself. Matching a compliant ride with a loose-limbed, long-distance cruising vibe, it munches through miles effortlessly. In Sport Plus, you get beefy steering, sharp throttle response and relaxed stability systems, but after a couple of wiggles of (easily correctible) oversteer you soon realise that this car's forté is ghosting over the road rather than leaving black lines on it.
And the engine? You're in no doubt it's a straight-six, but it's silky rather than snarly. The torque spread is impressive, with no troughs or spikes on the way to a 7000rpm red line, and the (optional) eight-speed auto responds with real vigour. This is a properly fast car, and only on a long road will the substantially more powerful M3 trump the 435i in a drag race.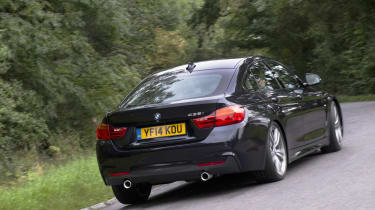 Rivals
Audi's equivalent is the A5 Sportback, and the S5 Sportback sits atop that tree as the closest rival to BMW's offering: it develops 328bhp, comes with quattro four-wheel drive and costs £43,665.
However, you could argue that the Gran Coupe's closest rival comes from within: the 335i saloon has the same engine, weighs 65kg less, also seats five, offers identical luggage capacity (480 litres) and costs £38,260 in M Sport trim. And don't forget there's also a more spacious 335i Gran Turismo. Naturally, this is also a five-door hatchback ultimately based on a four-door saloon, but treads a more practical path than the rakish 4 GC.
Anything else I need to know?
To conclude, the 435i GC is appealing, refined, fast and certainly more competent than an S5 Sportback. It is a huge pity that the styling does not ape the 'lead sled' vibe of the bigger M6 Gran Coupe, because to our eyes at least, the 4-series GC is a slightly awkward shape. Indeed the 335i saloon is a neater, more cohesive design, although it's not as sharp to drive. 
So it's horses for courses. Ignoring the clunky 335i Gran Turismo (and you should), if you're watching the pennies, need four doors, and don't mind a fractional loss in driving dynamics, pick the 335i saloon. If you want better dynamics and absolutely must have four doors and five seats, pick this car. If you only use the rear seats occasionally and only then for two people, pick the 435i coupe. This is a fine range of cars, but of the trio the latter is our choice.
Price and release date
The BMW 4-series Gran Coupe is available now from £41,665.
Specifications
| | |
| --- | --- |
| Engine | In-line 6-cyl, 2979cc, twin-turbo |
| Power | 302bhp @ 5800-6400rpm |
| Torque | 295lb ft @ 1200-5000rpm |
| 0-62mph (claimed) | 5.5sec |
| Top speed (claimed) | 155mph (limited) |
| MPG (combined) | 34 |
| On sale | Now |