Bentley Continental GT buying guide
The Bentley Continental GT combines near-supercar pace with a reputation for reliability – and all from just £25,000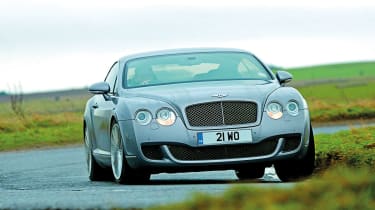 Search for 'Bentley Continental GT' on evo cars for sale
A Bentley Continental GT is a beautifully constructed car that's available at crazy prices – from £25,000 for an early example – only because Bentley sold so many in the first place.
It launched with a 6-litre W12 engine with 552bhp, enough to whisk it up to nearly 200mph via a five second 0-60 time. And to achieve these speeds and accelerative rates you have merely to plant your right foot and sit back in leather-upholstered luxury.
It's current used values represent a very large saving over the price when new of £110,000, but ten years and a lot of miles – maybe 80,000 or more – will have passed under those hefty 19in wheels once we're at this lowest price-point. However, this is a Bentley, and a Bentley should be well able to shrug off time and travel. An early Continental GT sounds, on paper, to be a deeply tempting prospect.
Should you be tempted? The Conti GT was a new kind of Bentley on its launch in late 2003, the fruit of the Volkswagen group's takeover of the company. The Crewe factory was refitted to make a new model range to fit below the giant and dated Arnage models and recreate the past Bentley notion of a gentleman's sporting motor car.
Handily, Volkswagen had recently launched the Phaeton as VW boss Ferdinand Piëch's piece of corporate showing-off. This fabulously and expensively over-engineered car had, in its top version, a W12 engine (effectively two narrow-angle VR6s joined to a common crankshaft) and four-wheel drive. These ingredients formed the basis of the new Continental, with a pair of turbochargers added to ensure the sort of pace that even Aston Martin's DB9, which arrived shortly afterwards, struggled to match.
Despite the VW connection, the Continental's engineering development happened mainly at Crewe and the W12 engines are built there. Far more Bentley W12s have been built than VW or Audi ones. Rather more of these present-day Continentals have been built than any other Bentley, too, which means there are plenty of used examples on offer.
The GT coupe came first, followed by the longer-wheelbase Continental Flying Spur four-door saloon in 2005 and the GTC convertible in 2006. All are mechanically practically identical, with little change until the major GT/GTC facelift at the end of 2010. It's these pre-facelift cars that this guide covers.
Special versions included the 600bhp Continental GT Speed or GTC Speed introduced in late 2007 – the first Bentley to top 200mph. And then there was the Supersports, a pared-down GT or GTC with Alcantara and carbonfibre instead of leather and wood, carbon-shelled front seats, no rear seats, 621bhp, a 3.9sec 0-62mph time and weight trimmed by 110kg. It cost £163,000 when launched late 2009. Now they're just dropping under £90K. It's a fabulously unlikely Bentley, stark and menacing, sparingly garnished with black chrome and extremely good fun.
So, should you buy a Continental? Initial test reports were guarded in their ecstasy, citing a heavyweight, unresponsive feel to the chassis dynamics and less than perfect refinement from the oddly configured engine. These snags were whittled away over the years, so the newer the Continental, the better a drive it will be.
The GT is much the most numerous, with a huge choice in the classifieds. The GTC, however, has great charm of its own with an indomitably stiff structure, seven layers of trim in its majestically powered hood and the ability to touch 190mph even with the roof down. You get to hear more of the W12's expensive-sounding exhaust note, too.
Running costs could be a worry; over two tonnes, 479lb ft on offer from just 1600rpm and all that pace potential make for a thirsty car, with 20mpg available only to the saintly. CO2 is rated at an embarrassing 410g/km, too. However, the Continental has a reputation for reliability and durability, and servicing costs are only mildly frightening. It's not often you discover a car with zero issues, but the Conti GT really is that close to perfect.
Find a car with a thorough history from a franchised dealer or marque specialist and you'll live happily in rapid-transit luxury for years.
What are the alternatives? You can buy an early Aston Martin DB9 from £30,000. It looks superb value today, especially if you find one fitted with the Performance Pack, which sharpens up the handling no end. As a traditional GT the DB9 takes some beating, and at this sort of price point, they look mightily tempting.
Also worth a shout – though probably a little more prone to scary bills than the Bentley – is the Maserati GranTurismo. Launched in 2007, it has also dropped to around £30,000 for older plated, higher miled examples. Like the Conti GT, there are number of power levels and variants as well as the GranCabrio soft top, while a Quattroporte of similar vintage will share its engine with a comparative GranTurismo and provide an achingly pretty alternative to a Bentley Flying Spur, albeit one with worse ergonomics and a lot less space in the back. From the driver's seat, though, it's a lot of fun.
Search for 'Bentley Continental GT' on evo cars for sale
'I bought one'
Alastair Gill
'It's a November 2008 car, which I bought in March last year at 15,000 miles. It's now up to 18,500 and has just had its first MOT. I absolutely love it.
'It has been exemplary. The only thing that goes slightly wrong, perhaps one time in four, is the motorised bootlid – which is a stupid feature anyway, in my view. It gets halfway up and falls down again, but will be fixed under the warranty that I have extended for another year. That cost around £2000 but is worth it for a car of this cost and complexity.
'With all that torque you feel you're moving the earth rather than the car. It gives an immense sense of wellbeing, especially with the hood down. It's a lovely place to be, beautifully made with effortless performance, but it doesn't do vast numbers of miles per gallon. Fortunately I don't use it that much.
'Otherwise, the only thing I don't like is the satnav, which is hopelessly dated and clunky. Some owners stick a TomTom to the screen instead…'