Bentley Continental GT V8 in Croatia: video | evo DIARIES
Henry Catchpole takes you behind the scenes of the recent Bentley Continental GT V8 feature in his latest diary video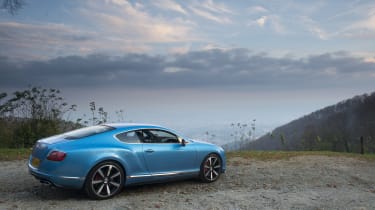 Join Henry Catchpole behind the scenes of his Bentley Continental feature for evo 204, where he samples the winding smooth tarmac, bargain 100-octane petrol and stunning skies of Croatia and its southeastern Europe neighbours. His mission? To find a candidate for the world's best driving road.
His choice of vehicle couldn't be more fitting for such a majestic landscape, a 521bhp Bentley Continental GT V8, painted in a colour that manages to compliment the white cliffs and deep blue seas that surround the journey.
He could have taken the more brutish W12 Conti to Croatia (the GT Speed possesses a mammoth 616bhp), but Henry chose the lighter (well, it's still two-tons), nimbler V8 so he could fully exploit the curves of the Adriatic coastline.
With the sun setting over the horizon and the rumble of a Bentley V8, join our Bentley Boys as they explore Croatia's finest roads for our magazine feature.
Oh, and look out for snapper Aston Parrott making his video debut screaming into the mountainside, as you do…