Audi RS6 buying guide
The Audi RS6 practical, reliable and, with a V10 engine fit for a supercar, as fast as you like. A used one could be yours for just £40K.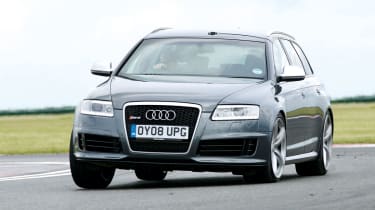 As hard acts to follow go, the original 4.2-litre twin-turbo V8-engined Audi RS6 set the bar uncommonly high. Sure, it was more cudgel than scalpel, but anyone who claimed to be unimpressed when the snarling motor began its full 444bhp top-end rampage was either fibbing badly or sitting in the wrong version of Audi's mid-field exec. Thuggish and brutal, the RS6 traded finesse for fury, and its madcap pace and bombastic soundtrack were addictive stuff, however critical you may have been of its other dynamic traits.
>Find a used Audi RS6 for sale on the Classic and Performance Car site<
How could Audi top it? Well, in the dying days of that RS6, the company introduced a run-out special, the Audi RS6 Plus, complete with a Cosworth Technology-developed engine producing 473bhp, Dynamic Ride Control as standard and the option of an even more hardcore suspension set-up, improved steering and uprated brakes. Which led to another question: how would Audi top that?
The answer arrived in emphatic fashion in April 2008: the all-new RS6. It didn't look much, but boy-oh-boy was it packing some hardware. V8 power? How passé… Instead, how about a 5-litre TFSI bi-turbo V10? Derived from the engine found between the haunches of the Lamborghini Gallardo no less, it belted out 572bhp and 479lb ft, and was capable of pushing the big saloon or estate along at 200mph – once Audi had disabled the 155mph speed limiter.
There were whacking great 390mm discs on the front with six-pot calipers, gargantuan 275/35 ZR20 tyres all round, a six-speed Tiptronic automatic gearbox with paddles, and a torque split for the quattro four-wheel-drive system that in normal driving favoured the rear wheels to the tune of 40:60. To further prove how seriously Audi was taking the spec of the new RS6, both the saloon and 'Avant' estate used aluminium for both bonnet and (blistered) front wings.
Performance was ballistic. Not so much in the dash from standstill to 62mph, accomplished in the same 4.6 seconds as the previous RS6, but everywhere beyond. It was absurdly powerful, laugh-out-loud-and-swear-uncontrollably aggressive, a devilishly dangerous threat to the ego of supercar drivers in straight lines and twisting ones. It was insane, in the best sense of the automotive expression. Particularly in a car that looked so little different from an entry-level turbodiesel rolling on 20in rims.
As with its predecessor, the RS6 V10 ultimately suffers from a deficiency of real interactivity, which could be a drag if it were your only car. Many, however, bought their RS6 as a day-to-day complement to the supercar – or supercars – in their garage: large ticks in the boxes marked 'spacious', 'comfortable', 'practical', and 'hugely bloody fast' were reason enough to buy one.
The second-generation RS6 only departed the line-up as recently as 2010, when its list price was the thick end of £80K. But early models are now popping up for half that money, meaning you can buy a Lamborghini-engined saloon or wagon complete with Audi build quality for about the same price as a new A4 Avant 3.2 with a few options.
Appealing, yes? Hugely, we'd say. But there's a caveat here – your pocket is likely to suffer a beasting with running costs. The RS6 is a heavy consumer of fuel (17mpg, or much, much less) and tyres (17,000 miles, or one trackday). And while specialists will save you money on labour costs compared with a franchised dealer, there's little choice but to use genuine Audi parts. This is not to put you off, simply to warn you. As Spiderman's uncle didn't quite say: 'With great power comes great financial responsibility.'
The Audi RS6 today
Introduced towards the end of 2012, a new version of the twin-turbo 4.0-litre TFSI 552bhp engine – as used in the S6 – powers the latest generation RS6. A 0-62mph time of 3.9secs is quoted, and it will go on to a limited 189mph top speed when fitted with the 'dynamic plus' package.
With the aim of reducing CO2 emissions without sacrificing performance, weight has also been reduced by over 100kg from the previous RS6, mainly thanks to the use of more aluminium under the skin and a more compact engine. Coupled to this is added efficiency from that new engine, which thanks to cylinder deactivation, stop-start and eight-speed ZF gearbox is roughly 40 per cent more fuel-efficient than the old model, capable of a claimed combined fuel consumption of 28.8mpg and CO2 emissions of 229g/km.
There are two options for suspension, with the standard adaptive air suspension – lower than the standard car by 20mm – and the more conventional steel sprung 'sport suspension plus' with Audi's three-way adjustable Dynamic Ride Control system. The RS6 also gets Audi's latest 'wavy' brake discs for extra weight saving, with beefy six-piston callipers. Carbon ceramic discs will be available as an option.
20-inch forged alloy wheels come as standard, although 21-inch versions can be ordered. Visually, the RS6 gets a very similar treatment to the smaller RS4, which includes new bumpers, black grille, wider arches, roof spoiler and diffuser, as well as the large oval tail pipes.
In standard form, the RS6 Avant is limited to 155mph, which can be raised to 174mph with the optional 'dynamic' package. For the full 189mph, you'll have to shell out for the 'dynamic plus' package.
'I bought one'
Martin Adams - A car mechanic since he was 17, Martin Adams of fast Audi specialists Unit 20 began specialising in the S and RS models six years ago, having fallen for the brand after owning a twin-turbo V6-engined S4.
'I followed that up with a 2003 RS6 Avant that I owned for four years,' says Martin, now 39, 'during which time I did every modification known to man, then invented a few of my own.
'Eventually, though, I felt I needed to change up and move with the times, so in 2010 I bought a brand new, Suzuka Grey, V10-engined RS6 saloon.
'It's a totally different car to the V8 I had before. The interior is beautiful, the switchable suspension works really well, and the gearbox is silky smooth – I just can't fault anything about the car. And to say that it's a super-fast cruiser is a serious understatement.
'Although it's a big, two-ton car, I have used it extremely hard on the track, where it was not only bullying modified RS4s out of the way, but its brakes were fade-free, unlike the old model's…
'After a few modifications the power of my car is now up to 720bhp; later on I'm going to carry out the big turbo conversion to take it to 850bhp. I don't foresee the power increase causing any problems, as in a V10 it doesn't represent a large load per cylinder.'