When Audi first humbled Porsche – evo Archive
In 2007, the R8 definitely, absolutely beat a 911 at the first time of asking. But had we made the right call?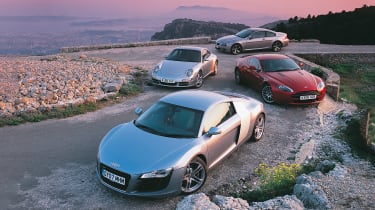 I can still remember the cross- examination I got. We used to have these big storage heaters at either end of evo's old Tower Court office; lovely to perch atop and warm your bum on on a winter's morning. And Jethro Bovingdon was doing just that while reading the proofs of issue 106's cover story: 'New Order'. Peter Tomalin and Ian Eveleigh love a music reference.
It was the brand new Audi R8's first group test and the car from Ingolstadt had won, beating the BMW M6 (E63), Aston Martin Vantage (with Prodrive upgrades) and Porsche 911 (a 997 Carrera 4S). This went against all received wisdom because at the time the joke in the office was that a BMW won any group test unless there was also a Porsche in the mix, in which case Stuttgart trumped Munich.
David Vivian had deployed his inimitable brand of weapons-grade writing on the 18-page feature, but as a freelancer he wasn't in the office to answer questions come deadline. John Hayman was also on the test, but was also freelance. Andy Morgan had taken the fabulous photos (on film! I remember he had a new tilt-shift lens for some of the details) and driven the cars but was out on another shoot. Having celebrated my insurance-critical 25th birthday months earlier I had been allowed to go on the test in southern France and was therefore the most senior office-based person available for Jethro to quiz.
> Audi R8 review – verdict, specs and prices
I was certain the right result had been reached, but I was also very aware that it was a huge call to make. evo wasn't the sort of magazine to be wowed for the sake of it by the latest new thing and I feared Jethro thought that's what might have occurred. Had he been wearing a wig and I a suit in a court of law I don't think I'd have felt more nervous. Yes, the B7 RS4 had recently given the E46 M3 a run for its money, but this was a different magnitude. 'Audi humbles Porsche' was the sensational penultimate sentence of the feature.
I explained to Jethro (I stopped short of calling him Your Honour) as best I could that the R8 really was that good, but I'm sure he wasn't entirely convinced. The line that stood out for me in Vivian's piece was when he said that compared to the others, driving the R8 was 'like being given a glass of sparkling Perrier after years of drinking ditch water'. It somehow captured the feeling perfectly.
What's more, the R8 backed up its on-road performance with a sensational time around Bedford Autodrome's West Circuit. It posted the tenth quickest time we'd ever recorded, beating a GT3 by over a second and lagging just eight-tenths behind an Enzo. I think Jethro also interrogated Dickie about how much kerb he had taken through Pif-Paf…
Thankfully, 12 years later, an early V8 R8 with a manual 'box remains a truly wonderful thing and the result of that test feels entirely justified. In many ways, even though the R8 has evolved considerably, that first stab has never been bettered. I know for a fact that Jethro, like the rest of us, keeps a keen eye on their prices in the classifieds…