Buying a Quattro for the launch of the Audi TT – evo Archive
Driving overnight to the Italian launch of the Audi TT – in a second-hand Ur‑Quattro bought only hours before – was all in a (long) day's work for issue 001 of evo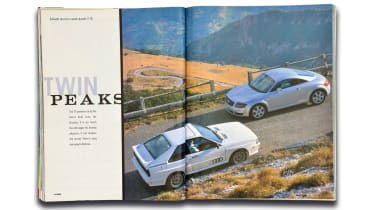 'It doesn't feel real that I was fortunate enough to be involved in evo's creation,' says a slightly wistful Stuart Gallagher. 'It was a small walk-on part, admittedly, but someone had to make the tea and drive Dickie Meaden to the office each day. Sometimes he even managed to be ready before noon.
'Our farm-based office in Northamptonshire was a far cry from the featureless concrete structures other publishers occupied. I remember hearing the faint screams of Formula 1 cars using Santa Pod for shakedown tests – a welcome relief from both the yells that emanated from the secondary school next door and the Foo Fighters' "Monkey Wrench", which our art editor, Damien Smith, insisted on playing at least twice a day. 
'But it was the overriding sense of adventure that accompanied every photoshoot that sticks with me most. evo's look and feel was led by Damien and photographer Gus Gregory, the former providing the latter with briefs for photoshoots that pushed us all beyond what we thought possible from a Nikon, a Hasselblad and a crate of Fuji Velvia. It also involved getting up before you went to bed.
'For evo's first issue, Audi invited us to the launch of the TT, in Umbria, Italy. Naturally we accepted but we didn't want to do a plain-Jane first-drive review. We needed to show the world that evo was different. So, with the TT being a turbocharged, four-wheel-drive Audi coupe, there was only one car we wanted to bring along for our story, an Ur‑Quattro.
'This was in the days before PR departments saw the benefit of heritage fleets, so, while Audi was happy to accommodate us, we had to supply the Quattro… 
'I wasn't privy to the exact conversation, but I arrived at the office one Tuesday morning to find Gus asleep in his Citroën BX waiting for Harry Metcalfe. Apparently they were going to Warrington to buy a Quattro.'
And did they?
'Oh yes, sometime in the middle of that afternoon I remember that the Foos stopped playing just long enough for a distinctive five-cylinder warble to percolate through the open windows. And there it was, a white 20V.'
So, how did it get to Italy?
'I drove it.'
After a full check up and service…?
'Not exactly. Gus immediately hot-footed it back to his Surrey home to pack for the shoot and I went in the opposite direction in the "new" Quattro to grab some clean pants from my digs before heading south. 
'We left Gus's house at 1am, reached Chamonix for a late breakfast, then shot in the mountains above Courmayeur that afternoon before chasing down the autostrada, with the sun setting behind us, to the TT's launch location south of Rome. 
'evo's generous travel budget allowed for a twin room with single beds just about large enough for the world's thinnest mattresses to be fitted, but the pizza was crisp and the beer cold. The following day Gus and I recce'd the area for the shoot. I left his portable water sprayer in a lay-by. Twenty-two years on he still hasn't forgotten. Or forgiven me.
'We eventually checked in to Audi's hotel that night, and the following day Dickie arrived with photographer Dom Fraser and we all headed off with the fresh-faced TT and gnarly 20V to get the photos for the feature.
'Thankfully I flew home with Dom while Dickie drove back with Gus. Being a kind colleague I sent Dickie a text the next day to see how they were getting on. "The glovebox is smoking and Gus is throwing his camera gear on the hard shoulder," came the reply.
'No one was more surprised than me to see Dickie pull up in the office car park in the Quattro on the Monday morning. And not because it had only just gone 10am.'