Aston Martin Vantage AMR teased with manual gearbox
As promised, Aston Martin has confirmed a manual transmission is coming for the new Vantage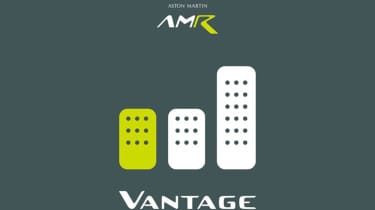 Aston Martin has officially revealed its plans to fit a manual gearbox to the new Vantage. Revealed in a teaser image with AMR branding, the manual transmission will likely be introduced alongside a subtle update, in a similar manner to the DB11 AMR from last year.
Specifics at this point remain unknown, but considering the previous V12 Vantage S utilised a seven-speed manual transmission, we'd suspect this new Vantage might offer the same – something that will also improve its mpg and CO2 ratings thanks to the further overdrive gear.
> Click here for our review of the Aston Martin Vantage
Joining the manual transmission will be the same AMG-sourced 4-litre, twin-turbocharged V8 as used in the standard Vantage. This will be the first time the M177 hot-V V8 has been connected to a manual transmission, be it within AMG, or Aston Martin's range, and has likely required a large amount of calibration and development work between the two powertrain components.
The inclusion of a physical manual transmission lever will also require a substantial redesign to the interior, with the automatic Vantage having a column-mounted gear selector borrowed from Mercedes-Benz.
More information should be revealed soon, but as one of the few remaining sports cars with a manual transmission, its commercial success once revealed will be crucial to the survival of the species.