The Aston Martin Vantage V600's twin supercharged V8 - Art of Speed
Aston's supercharged V8 was for a time the most powerful engine on sale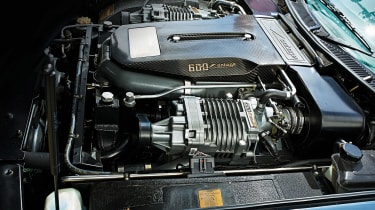 They'll tell you the most potent Aston Martin Vantage is the new GT12. Wrong. The 'V600' Vantage, class of '98, pips the fresher by 8bhp and hammers it for intimidation. The GT12 is not the lesser car – far from it (see evo 214). It's just that the old-timer has 600bhp and 600lb ft, no aerodynamic aids to speak of and, on early cars, sod all electronic stability control software should two tons of steel, aluminium and testosterone go loco.
The two don't stand serious comparison, of course. One is a paean to power while the other is more concerned with its effective use. But whichever their preference, petrolheads' faces never fail to scrunch up in approval at the older car's way of doing things.
The V600 project started shortly after Aston's engineers had given us at the time the world's most powerful production car: the 550bhp Vantage 'V550'. Traction would evaporate during 90mph gearchanges in the dry, but still some customers weren't sated. Thus a post-registration option package that side-stepped type approval emerged from the Works Service department, but boy would you need the readies.  The conversion cost £43,000 on top of the donor car's £189,950.
> New 2018 Aston Martin Vantage review - Vantage leaves an impressive first impression
Included were six-piston AP brakes said to dissipate enough energy during a 200mph stop to heat a pensioner's flat for a fortnight. Hollow-spoked magnesium alloys were chosen, which meant marketing could unscrupulously deploy the term 'lightweight'. Behind said wheels were Eibach springs and Koni adjustable dampers. The gearbox was from a Corvette ZR1, only with shortened ratios and a blanked-off sixth gear. It wouldn't be missed: fifth gave a theoretical top speed of 221mph…
Out of context, the 5340cc quad-cam V8 could pass for a galactic dreadnought flanked by planet-destroying plasma cannons, but in situ the hand-built reality was appreciably better. About a block prepared by Callaway were two Roots-style superchargers from Eaton, a re-engineered cooling system and an extra intercooler radiator. They helped elevate Tadek Marek's 30-year-old engine design to heights the chassis couldn't really cope with. Nobody cared.
Regalia? Well, not especially. There was a carbonfibre engine cover, which in fairness was a pretty big deal at the time, and some lovely gold badges, and that was it. But even dormant this was an engine that radiated supremacy, espoused the industrial and hummed with a hard beauty. Was there ever a tool better suited to the job?