Advantage Aston: meet the men shaping Aston Martin's future cars
Chris Goodwin and Matt Becker are the men defining how the new breed of Aston Martins drive, this is their take on what's to come
Aston Martin's ambition as it heads into its next one hundred years is not to be underestimated. Already buoyed by a swathe of new models, partnerships, investment and even a floatation onto the stock market, Aston Martin isn't resting on its laurels when it comes to building on its status as one of Britain's most loved brands.
But Aston Martin is a performance car manufacturer at the end of the day, and if its new models are not up to scratch, then it has an issue. It's no surprise, then, to see Aston Martin taking no shortcuts in the development of its next-generation of cars, and it's up to two men, Matt Becker and Chris Goodwin to keep them at the leading edge of the dynamic spectrum.
> Click here for our review of the Aston Martin DBS Superleggera
We went out to see them at Aston Martin's HQ, to discuss their vision of the new generation of Aston Martin's cars, from the Vantage, right through to the seven-figure Valkyrie hypercar.
Matt Becker - Chief Engineer
Aston Martin's head of vehicle dynamics, Matt Becker, has become one of Britain's most highly regarded car engineers, and deservedly so. Having learnt his trade at Lotus for 26 years – much of that under the watchful eye of his dad, the late great Roger – Becker left to join Aston in 2015, shortly after Andy Palmer took control, and hasn't had a moment to spare since.
He now commands a 250-strong team, and the new Vantage is very much his first Aston. Becker explains: 'Although the Vantage shares quite a lot of its fundamental components with the DB11, I'd say the majority of the dynamic characteristics of the car are down to me – particularly in terms of the suspension kinematics, the compliance targets we set, the steering feel, the sound, the tuning of the car: the way it drives, essentially.'
> Click here for our review of the new Aston Martin Vantage
So is he confident the Vantage is the best car in its class? 'Yeah, I'm confident we've made the best car,' he says, albeit in an endearingly self-conscious sort of way.
'Obviously we got a 911 GTS in for comparison,' he elaborates, 'and I think it's a very good car. But I don't think it has a particularly playful nature, whereas I think our car has a more fun and playful side to its personality. A 911 is quite a serious car, if you know what I mean.'
Agreed, yes, but it's also a rather good one overall, surely, and not exactly dull to drive, either?
'Yes, but I don't think it's a car you'd slide around in particularly often and have fun with in that way,' says Becker. 'We've set the Vantage up to allow you to do just that, to have more fun with it.
'And the other thing we've done differently [to Porsche] is the sound tuning. The 911 GTS is actually quite muted in its sound character, whereas we've tried to introduce a much more audible character for the Vantage, to give you more drama.'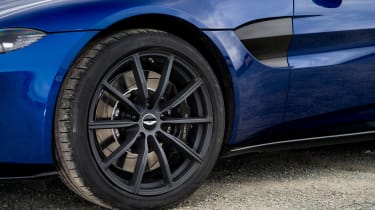 Arguably the biggest challenge Becker and his team faced was the Vantage's mass. Truth is it weighs around 200kg more than a 911. It must have been a mighty hurdle?
'The 911 is a lighter car,' he admits, 'and this has been quite hard to work against. But I do think we've ended up with a car that's more fun and more dramatic to drive, with better steering feel, too.'
So is it a track weapon as well, given that it features a new Track mode?
'We did lots of miles on and around the Nürburgring in it, and at Nardò and other circuits, and I'm confident that it does work really well on a track, any track.'
One aspect of Becker's job that has intrigued me since he joined Aston is whether he struggled going from making mid-engined cars to front-engined cars.
'No,' he says. 'A big part of my role at Lotus was on the engineering consultancy side, and that involved driving all sorts of cars, in all sorts of configurations, for all sorts of clients. Although there are certain physics involved with different layouts, I think the fundamental approach is the same with any car.'
In that case, what are the characteristics that define the way an Aston Martin drives from now on under Becker – and to an extent Chris Goodwin, as well?
'Things like brake pedal characteristics, throttle characteristics, steering feel, sound, ride compliance – all these things need to be consistent across all our cars from now on to make them feel consistent to one another, even though the Valkyrie will be out there in the stratosphere compared with our core products,' says Becker. 'They all still need to have the same consistency of response to make them feel like an Aston Martin.'
Interestingly, admits Becker, this hasn't really happened before at Aston Martin, not to such a fine degree. 'Vantage is the first car where everything has come together like this in such detail, and I think it shows. But that's the way it'll be with all our cars from now on.'
No excuses then, Matt…