Tesla Model S P100D now accelerates from 0-60mph in 2.4sec
New Ludicrous Plus mode makes P100D even faster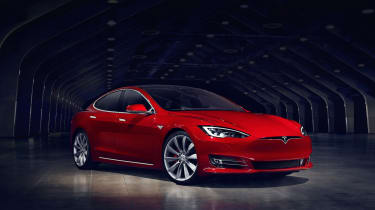 Tesla has added a new setting to its Tesla Model S P100D that allows it to accelerate from 0-60mph in approximately 2.4sec. The 0.1sec that's been shaved off this time is thanks to a recent over-the-air update that includes a Ludicrous Plus mode.
The Model S P100D previously had just two modes for its acceleration characteristics, Sport and Ludicrous. The new setting is access by holding the Ludicrous button on the car's central screen for a couple of seconds. Before it's activated, however, the screen shows a sci-fi style warp speed animation then a warning is displayed. The message reads 'Are you sure you want to push the limits? This will cause accelerated wear of the motor, gearbox and battery.' You can then either select the new mode with the 'Yes, bring it on!' button, or back-out with the 'No, I want my Mommy' one.
To see the new mode in action, watch the video below.
Tesla previously claimed the Model S P100D was the quickest accelerating production car in the world, but  has been disputed. The P100D's closest competition can be found with Porsche's hybrid 918 Spyder and its 2.6-second time - albeit to 62mph rather than 60. The P100D's 0-62mph figure is 2.7 seconds, but the Ludicrous Plus mode may reduce that time enough for it to match, or even beat the 918. Nevertheless there's little doubting its speed is impressive, especially for car that weighs around 2.1 tons and seats up to seven.
The P100D's more relevant figure for most buyers (those not uploading drag-racing footage to Youtube, anyway) will be the car's range. At 100kWh (10kWh greater than before), official NEDC range increases to 380 miles.
That's on a par with many regular combustion vehicles, though given the NEDC test's inaccuracy greater information can be gleaned from the more realistic American EPA number of 315 miles - still impressive and around 45 miles greater than it had before.
Tesla's SUV-cum-MPV, the Model X, that shares the same 100kWh battery pack, can also be set to Ludicrous Plus mode. The Model X dips under three seconds to 60mph, 2.9sec in Ludicrous mode to be exact. We expecy the new setting to shave some time off that time as it does on the Model S. 
The Model S P100D costs £123,835, £41,400 more than a P90D that currently costs £82,435 in the UK.