Subaru BRZ UK specification revealed: Subaru BRZ UK specification revealed
Three different models coming to the UK, ranging from stripped-out to generously equipped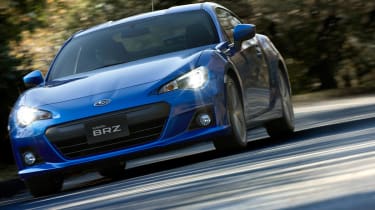 Subaru has revealed the UK specification for its forthcoming and highly anticipated BRZ coupe.
The top-spec BRZ will feature 17-inch alloys, LED daytime running lights, dual-zone climate control, MP3 connectivity and front, side, curtain and knee airbags. Subaru has also announced that a lower-spec model will be available later this year, as well as a stripped-out version designed as a 'blank slate' model for tuners to put their mark on.
All cars will feature Subaru's 197bhp naturally aspirated 2-litre boxer engine, which will also appear in the BRZ's sister car, the Toyota GT 86. Both cars will be front-engined with a 2+2 seating layout and a torque-sensing limited-slip differential, with owners able to spec either a six-speed manual or a paddle-operated automatic gearbox.
Subaru has stated that a chief concern with the BRZ was to make its centre of gravity as low as possible, and as a result, half of the car's 1100kg mass has been placed below knee-level to improve handling.
Pricing has yet to be confirmed, but it has been rumoured that the top-spec BRZ may command as much as a £5000 premium over its £24,995 Toyota sibling when it goes on sale in the spring.