F1 testing 2014: Jerez round-up
The 2014 Formula 1 season is hotting up, with this year's first test at Jerez giving us our first glimpse of the cars in action. Round-up here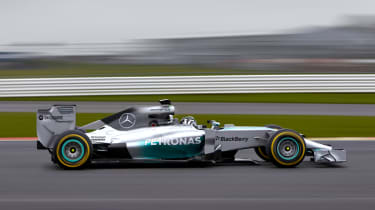 Just two months since the screaming V8s breathed their final breath in Brazil, the turbocharged V6 replacements have buzzed into life for testing ahead of the 2014 season. Welcoming the sport's most drastic rule changes in decades, the 2014 cars have significantly different appearances due to the new rules. This season is therefore a year of the unknown, meaning testing is of the upmost importance. We've been watching the running in Jerez closely to provide you with a rundown of some of the new cars' first three days on track.
Champions Red Bull unveiled their weaponry to defend both the constructors' and drivers' crowns this Tuesday. The RB10 may appear prettier than many of its less conventional looking rivals, but the car has spent more time being analysed for problems than lapping the twists and turns of Spain's Jerez circuit. On day three new driver Daniel Ricciardo has been hampered by hybrid system problems that have meant he could only complete two laps to add to Champion Sebastien Vettel's 11. This has meant that whilst there is little doubt the RB10 will have potential under the design team of Adrian Newey, issues of reliability are unsurprisingly a concern.
Local boy Fernando Alonso has enjoyed much better fortune with his Ferrari team, taking control of his 'vacuum-cleaner nosed' F14-T for the first time after it provided teammate Kimi Raikkonen with the ability to complete tens of laps in anger. Raikkonen finished day one top of the timesheets, with day two seeing him sit second, 0.7 seconds off fastest driver, Jenson Button.
Button's surprisingly sponsor bare McLaren takes a similar route to the Ferrari with a low and wide nose design, the concept proving to have potential as it allowed him to set the fastest time of the day on day two, a 1:24.1. This time is some 6 seconds slower than last year's fastest time on day two, emphasising how far back the new rules have pushed the cars. The changes won't have affected new driver and rookie racer Kevin Magnussen however, as having only tested for McLaren he can learn the craft of Formula 1 with an almost clean slate of knowledge. He emphasised his speed this afternoon by setting the fastest time of all three days, a 1:23.2.
Mercedes has enjoyed a productive run in Jerez, with Nico Rosberg having completed more laps on day two than the entire field could manage the day before. Lewis Hamilton bounced back from his off on day one with him leading the standings for much of the afternoon on day three. If the Mercedes isn't the fastest, it's at least showing signs of being amongst the most reliable.
Other notable developments in Jerez include Caterham, whose narrow nose design looks to be the most interesting ahead of Lotus' double nose creation. The latter team has decided to miss the Jerez test, in order to concentrate on developing their car to an advanced stage ahead of the Bahrain test in February. Felipe Massa looks comfortable in his new British surroundings, the Brazilian pushing his Williams to second fastest with a 1:23.7 late in the day.
Away from the track, news that doctors are hoping to bring Michael Schumacher out of his induced coma has brought hope to much of the F1 circus that he might regain consciousness soon. With four weeks having passed since he hit his head on a rock whilst skiing, messages wishing him well have been a common feature of the Jerez test, the seven-time world champion still being a prominent figure in the F1 paddock.