Donington Park to become MSV circuit
MotorSport Vision bring the Leicestershire track into its large family of circuits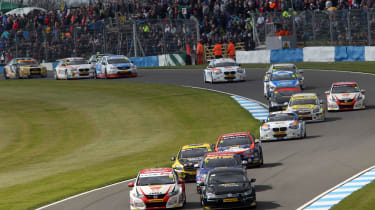 MotorSport Vision (MSV) has announced that it will take over Donington Park adding it in the vast collection of circuits the company currently runs. MSV already owns Brands Hatch, Oulton Park, Snetterton, Cadwell Park and Bedford Autodrome.
MSV struck a deal with Kevin Wheatcroft, the current owner of Donington Park circuit, to take over the business and the lease of Donington Park Estate. The contract is for an initial period of 21 years.
> Click here to read our guide to driving at Donington
MSV's chief executive Jonathon Palmer, a former racer has fond memories of Donington Park after winning a Formula 2 race from pole position in 1983. 'I am thrilled that MSV has now acquired the Donington circuit business… I can still remember the excitement of racing at the new Donington.'
In 2015 MSV expanded into Europe when it bought a former military base in north-east France. The new location is still in development and will become a large motorsport village called Laon Autodrome. MSV's UK circuits have benefitted from the company's financial investments as well as the slick, neat and organised manner they have been presented and run. Donington isn't in need of renovation, however that won't stop MSV putting its own stamp on the circuit.
Donington Park, located in Leicestershire, is one of the most prominent circuits in the UK and it hosts British Touring Car Championship races as well as many high-profile motorcycle championships. The first event to be held at the circuit was in 1931, but it has had a turbulent history ever since. During WW2 it became a military vehicle depot before it fell into disrepair. It was then purchased in 1971 by Tom Wheatcroft who renovated it into one of Europe's most reputable tracks, it even hosted the European Grand Prix in 1993.
In 2009 leaseholders Donington Ventures Leisure Ltd, collapsed after an ambitions attempt to turn the track into a venue capable of hosting a modern Formula 1 race and the circuit needed saving, again. Kevin Wheatcroft, son of Tom Wheatcroft, stepped in and restored it. The unsuccessful efforts to make Donington Park a Grand Prix venue will likely deter MSV from attempt it themselves. Even the news that Silverstone may stop hosting Formula 1 races after 2019 probably isn't tempting enough.
> Click here to read more about Silverstone's Grand Prix news