Infiniti FX Sebastian Vettel
Red Bull driver Sebastian Vettel's name is on this new Infiniti FX. Which means it's going to be fast...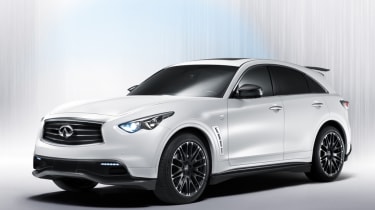 The bizarre sponsor partnership of luxury car-maker Infiniti and the Red Bull Racing F1 team is to create a road-going product. Set to be unveiled next week at Frankfurt, the Infiniti FX Sebastian Vettel edition will be the fastest Infiniti ever.
Though there have been no details yet released on modifications over the FX50S on which it is based, the Sebastian Vettel Edition is rumoured to have a top speed of 186mph.
Externally, the modifications have been chosen by the reigning F1 World Champion. They include a carbon fibre front grille, a rear spoiler and diffuser, and a new twin-exhaust system.
There is no word yet on a release date or prices but expect more information around the unveiling date of Tuesday 13th September.
Click here for the rest of evo's Frankfurt 2011 news