Lotus Exige S Roadster video
A Group Lotus video confirms the Lotus Exige S Roadster will go on sale in summer 2013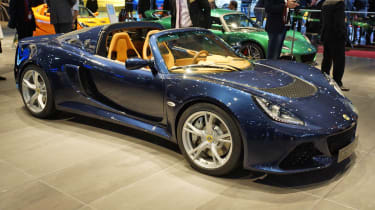 A Group Lotus video has confirmed the release of the Exige S Roadster. The roofless sports car was unveiled to the public at the 2012 Geneva motor show, becoming the fastest convertible Lotus in the process.
Since then, the company has had a tumultuous time, and news on the model's development was noticeable by its absence. This latest video shows the Exige Roadster lapping the Nurburgring Nordschleife, though, suggesting in-depth development ahead of its summer release.
With the mid-mounted 345bhp 3.5-litre V6 of its closed-shell sibling, the convertible Exige will hit 145mph. That's limited due to the lack of roof, and somewhat down on the coupe's 170mph top speed, though they share a 3.8sec 0-60 time. Gearbox choices will be the six-speed manual we know from the coupe or the six-speed automatic seen in the Lotus Evora IPS.