Lamborghini to enter LMDh in 2024
To join VW Group stablemate Porsche in the LMDh endurance class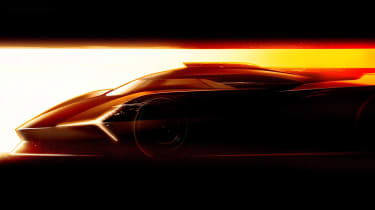 Lamborghini has announced it will enter the LMDh class of European World Endurance Championship and American ISMA series from 2024, joining Alpine, BMW, Porsche and others in the rapidly growing class.
The news comes as VW Group stablemate Audi has put its program on hold after confirming an entry into F1 once the new power unit regulations come into force in 2025. This is not the same fate as Porsche, who has confirmed it will continue with both its WEC program and its own F1 program, leaving the door open for a Lamborghini entry. 
The racer will be developed by Lamborghini Squadra Corse, and as per class regulations be based on a chassis from one of four current suppliers. The powertrain is more up for interpretation, but with Porsche already confirming it will run a twin-turbocharged 4-litre V8 engine alongside a control hybrid module, it's likely that Lamborghini will employ the same unit. 
> Peugeot 9X8 Le Mans Hypercar shown in new images
Lamborghini Head of Motorsport Giorgio Sanna commented: 'I am absolutely delighted that Lamborghini will be taking the next step in our motorsport journey, the step into LMDh and the top level of sports car racing. LMDh will play a special role in Lamborghini's Motorsports strategy, giving us the unique opportunity to expand our customer racing activities to new platforms and enforce our long-term partnership with customer teams and drivers.'
Also per the regulations, Lamborghini's expected to incorporate its own design language onto the racer, the design already previewed from Lamborghini's released image, with typical y-shaped daytime lighting signatures. 
Lamborghini's inclusion into the series will mirror the marque's forthcoming hybrid models, which we expect to begin with the Aventador's successor that we're expecting to see within the next 12 months.
So while we might be potentially losing one new contender, Lamborghini's inclusion won't just represent its highest-class racing program yet, but also a new era of rivalry between its ket rival that only lives down the road. Ferrari vs Lamborghini vs Porsche – sounds good to us.