New Jaguar XJ
Merc CLS fighting four-door to differ wildly from current car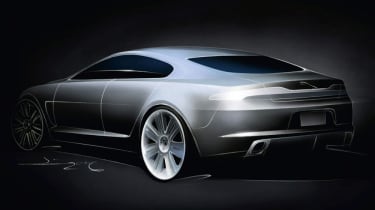 The next Jaguar XJ looks set to be a far different animal to the one we have at the moment. The current luxury saloon hides its technological aluminium platform and smart dynamics under an antiquated design that has changed little over recent generations of XJ, and it's a formula that saw the XJ sell around 87 per cent less cars than its key Mercedes S-class rival in 2008.
However, the all-new XJ is set to deviate massively, switching to a four-door coupe body style in the same vein as the Mercedes-Benz CLS and Aston Martin Rapide. In fact, these are the key names apparently touted as competition for the Jaguar XJ, as the company's new owners push the flagship Jag further upmarket. As the XF is doing so well, it'd probably make sense to move the XJ out of its way.
There was some criticism of the production XF, which didn't quite deliver on the sleek, swooping promises of the C-XF concept (pictured). It could be that elements of the C-XF's design have been held back for the new XJ, whose swooping roofline can just about be made out in spy shots. The new car will get the torquey 3-litre V6 diesel recently announced by Jaguar, and will no doubt get the new 5-litre V8 petrol unit set to debut in the XFR. New XJ prices are likely to kick off north of the current car's £44k starting point.
An XJ concept could debut as early as this summer, while this weekend will see Jaguar unveil the new XFR and XKR at the Detroit motor show. Busy times as the Big Cat aims to battle the falling market, although with a nine per cent rise in UK sales, Jaguar had one of the best 2008's in the motoring industry. Fellow company Land Rover's sales dropped 30 per cent.
Read about evo's Jaguar XF SV8, the newcomer to our Fast Fleet.