Ford Focus RS engine problems: owners promised free repairs
Ford is offering a free fix for the head gasket problems on the Ford Focus RS that cause white smoke and misfires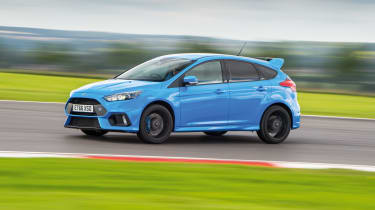 Numerous cases of engine problems suffered by the Ford Focus RS have forced Ford to extend free inspections and repairs to all owners affected, regardless of mileage or warranty status. Ford is currently contacting UK and European owners thought to be affected.
The mechanical malfunction of the 2.3-litre EcoBoost unit is linked to the head gasket, which fails to seal the engine block to the head correctly. Long term heat exposure warps the block preventing the head gasket from forming a watertight seal between the two engine components. As a result, coolant seeps into the cylinder block, producing the white smoke upon combustion and causing misfires when the engine is cold.
To rectify the problem, Ford dealers are checking the cooling system and replacing the head gasket for a new unit. If it's needed, Ford will also fit a new cylinder block, too. Ford has confirmed the work will be carried out free of charge.
The Ford Mustang uses a detuned version of the same 2.3-litre EcoBoost engine, but different internals have safeguarded it from the problem.
> Ford Focus RS Mountune M400 review – can the RS cope with nearly 400bhp?
Ford issued an official statement regarding the issue. 'Owners of 2016-17 Focus RS vehicles are being offered a free inspection and repair, regardless of warranty or mileage status, for concerns of white exhaust smoke and/or coolant consumption stemming from an issue with cylinder head gaskets. Ford dealers will test the cooling system, replace the cylinder head gasket and may replace the cylinder head, as required, at no cost to the customer.