Ford Mustang GT
Much as we love the Mustang, after 23,000 miles it's probably time to move on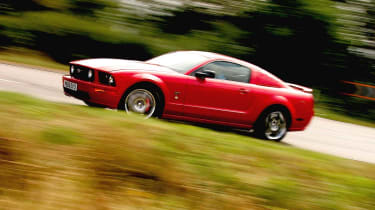 I've found an effective, if rather expensive way of improving the Mustang's damping: driving a Porsche 964 RS for a few days each week.
In truth, the Mustang's choppy manner has less to do with its damping and more to do with the live rear axle. At low speed, big potholes can catch it out, sending a shudder through the car, while at high speed, multiple bumps or sharp mid-corner ridges get the tail rather excited, resulting in a vertical buck or lateral shimmy, or both at the same time if you're particularly over-committed! It doesn't happen often, and on smooth, dry roads it redeems itself with great composure and monster grip. Whatever; flaws often equate to character once a car has wormed its way into your affections, and there's no doubting the Mustang's relative crudity does little to dampen our enthusiasm.
Having updated you on the revised fuel tank and new Movit brakes last month, I have to confess to forgetting to tell you about the 20,000-mile service. It was done a thousand miles early, but only because the car was at PowerStation to have the brakes fitted, so it made sense to make the most of the visit. Work amounted to a straightforward oil, filter and coolant change, along with the usual checks, for which we paid £254, including VAT.  
Much as we love the Mustang, after 18 months and 23,000 miles, it's probably time to start thinking about moving on. It's hard to imagine what we can replace it with; presence and performance on such a scale is a tough act to follow, especially for similar money. Still, if you'd like to own a big red slice of evo history, email your offer to us at fastfleet@evo.co.uk
Running Costs