LaFerrari tests Pirelli's intelligent tyres
Data streamed from hi-tech rubber set to transform performance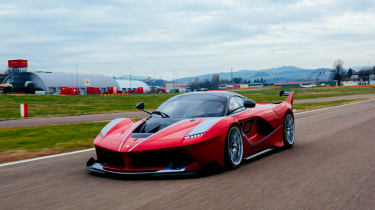 Pirelli's attempt to transform the performance of supercar tyres with the help of complex electronics in advancing apace, according to the Italian firm's esteemed technology chief, Maurizio Boiocchi.
'We're continuously working on the P Zero family of products, specifically to have electronics working inside the tyre interacting with the main computer in the car – something more than a tyre pressure monitoring system,' Boiocchi told evo during a separate product launch on the slopes of Mount Etna.
By 'something more', Boiocchi is referring to Pirelli's Cyber Tyre technology, which employs a 50 pence piece-sized sensor embedded into each quadrant of tyre belt. The LaFerrari-based FXX K track special is currently acting as a prototype test bed for the initiative, which will reach mass production supercars within five years.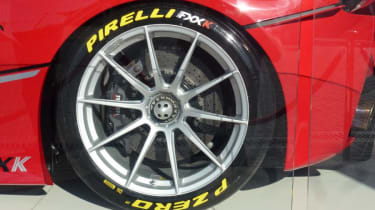 'The sensors can read what the friction coefficient is, what forces are acting on the tyre's footprint and offer real-time feedback, talking to the ECU. It will help manage whatever active presence there is in the car, be it active suspension, active camber, active torque; whatever you like in order to improve extreme performance.'
Interacting with stability systems, the upshot is that a car with active suspension will be able to instantaneously and independently alter the camber of inner and outer wheels during cornering to continuously maximise grip. Likewise, if a front tyre pre-empts understeer, it can send a message to the car's brain commanding it to soften the suspension. 
The implications for braking are more striking still. 'Instead of ABS information deducted from the first part of braking, you have the real force that's actually available to exploit,' Boiocchi says. 'There's a lot of potential for improved safety or performance.'