Ferrari's Luca Di Montezemolo leaves
The chairman of Ferrari, Luca Di Montezemolo, has announced that he is to stand down after 23 years. Details here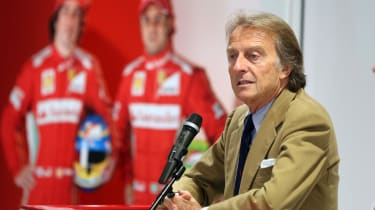 Ferrari's longstanding chairman Luca Di Montezemolo has announced he is to quit after 23 years of service. Having joined the Formula 1 team in 1991 and led it through the highly dominant Schumacher years, Di Montezemolo's exit signals the end of an era for the Italian racing outfit.
His reasons for leaving circulate around disagreements with Sergio Merchionne, the CEO of Ferrari's parent company, Fiat. With ambitions shifting towards drastically increasing the output of its road cars and dramatically restructuring its F1 programme to end a string of bad seasons, Merchionne will lead Ferrari from Di Montezemolo's 13 October departure, and is expected to bring drastic changes in an effort to grow the brand.
Di Montezemolop said of his exit: 'This is the end of an era after almost 23 marvellous and unforgettable years. It has been a great privilege.' He went on to say that Ferrari 'is the most wonderful company in the world and it has been an honour to have been its leader. I devoted all of my enthusiasm and commitment to it over the years. Together with my family, it was, and continues to be, the most important thing in my life.'
Racing success has always been central to Ferrari, with the typically brutal Italian media placing pressure on the team comparable to that experienced in the UK by England's football squad during a World Cup. Despite having arguably the strongest all round driver on the grid, Fernando Alonso, Ferrari's F1 team hasn't won a drivers' or constructors' title since 2008.
With 2014 currently looking like it could be Ferrari's worst season for 20 years, and Alonso suffering his first mechanical failure in a Ferrari since 2009 at this weekend's Italian Grand Prix, it's perhaps unsurprising to see F1's most famous brand undertake such a cut-throat method of restructuring. And with rumours circulating of offers for Alonso at his 2007 team, McLaren, Ferrari can't afford to have another bad season if it wants to challenge a dominant Mercedes in future races.