LaFerrari tuned by JMB Optimering
Not satisfied with the hypercar's standard power output, one LaFerrari customer has had his re-mapped to 1034bhp by Swedish tuning house JMB Optimering. Details here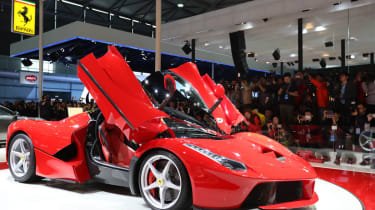 When most of us think of a 950bhp LaFerrari, we probably don't then think 'that could do with a bit more power.' But one person lucky enough to own one of the 499 Italian hypercars thought exactly that – because they've decided to get a remap.
Handing their hybrid LaFerrari over to aftermarket specialists JMB Optimering in Sweden, the owner now has a staggering 1034bhp on tap. The near 10 per cent gain in power has come thanks to modifications to the car's engine mapping, bringing total output into line of the figures rumoured for the forthcoming track only LaFerrari XX.
In standard form the 6.2-litre naturally aspirated V12 generates 789bhp at 9000rpm and 516lb ft of torque at 6750rpm. An extra 161bhp and 199lb ft of torque is added by the electric motor that sends drive directly through the differential. It can shove the limited run hypercar from 0-60 in under 3secs and onto a top speed of over 217mph.
This modified LaFerrari will likely improve on these figures, no doubt at the cost of a Ferrari warranty however.