Ferrari 360
Modena, Spider and Challenge, the 360 was the first modern V8 Ferrari and set the tone for all future models.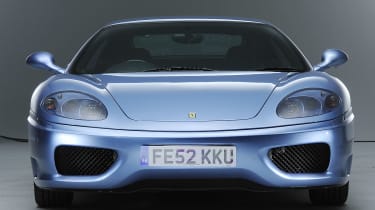 The 360 Modena arrived in 1999, bringing with it new curves and computer-controlled suspension that immediately made its predecessor, the excellent 355, look outdated. Technologically the 360 heralded the beginning of a new approach to car design at Ferrari. 
History
If you think of a mid-engined Ferrari with a V8 engine your mind might drift to the F40, or perhaps the mind-blowing 288 GTO so when it comes to lineage, the Ferrari 360 Modena is not short of illustrious connections.
The 360 was initially met with criticism though, as the taught compact lines of the F355 made way for a blobbier, more rounded aesthetic. If the design was met with mixed views, the driving experience definitely moved the game on, feeling more like its supercar successors then earlier mid-engine Ferraris.
Modern, lightweight and sophisticated, it featured the company's first aluminium spaceframe chassis, which was 40 per cent lighter than the 355's steel platform but also nearly 30 per cent stiffer, despite being slightly larger.
The Modena also saw a new word introduced into Ferrari reviews: reliability. The engineering had been more thoroughly thought through, and this was (and still is) reflected in lower servicing costs than for earlier mid-engined Prancing Horses.
The convertible 'Spider' version of the 360 appeared in 2000, then in 2003 the Challenge Stradale (not to be confused with the 360 Challenge race car) stormed on to the roads. A track-biased, stripped-out special edition, it gained titanium road springs and ceramic composite brakes, which provided legendary stopping power when hot. 
Inside there were fabric-covered carbon seats, while the CD player was deleted to save weight. Perhaps most significantly, the engine was squeezed to give an extra 20bhp, knocking nearly half a second off the 0-62 time and adding 3mph to the top speed, making the CS the ultimate road-going 360.