Porter seeks enlightenment on one of the most mystifying issues in motoring
"You cannot stop now!" Jesus shouted. "Your soul will not rest if you do not find the answer you need!"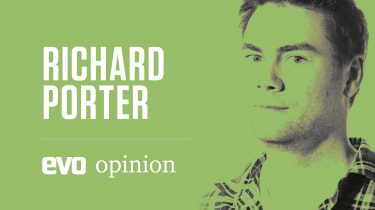 It took three days to walk from Ranghot. I had a guide for that section. You'll need one, they said. The tracks are confusing, the forest gets dense, you want someone who knows the place until you get to the shelter at Gundgoh. From there it's a single track to the monastery, you can't go wrong. Besides, the guide won't come with you. Only those with the genuine need to seek the truth can continue on the lone path into the mountains, to the monastery where you'll find him: the guru. The one who knows all.
I thought I'd be doing the final leg of the trek alone but when I got to the shelter at the start of the monastery path I discovered another man already spreading out his sleeping bag inside. Jesus was Brazilian. He came from Belo Horizonte and spoke good English. 'You are going to find answers?' he asked as we huddled in the shelter while evening rain pattered on the leaves of the surrounding trees. 'An answer,' I said emphatically. We agreed we would walk together. It was safer that way. The path was well travelled, they said, but treacherous in places. A person would do well to make it up there in one day, but we resolved that we would try.
The air was still hazy with blue dawn light when we set off, the path climbing immediately upwards through the thick trees and undergrowth. My shoulders were already sore from the straps on my backpack, their constant friction scuffing at my flesh. My feet were faring no better, blistered and beaten by the journey so far, with no respite from the relentless grinding of the tattered shoe lining against my skin. Every so often we would stop, take a breath and swig some water, but these were only brief moments of relief.
> 'Driving a new Ferrari on those glorious roads was to feel like we had been given the keys to a kingdom'
Still the path kept climbing, the ground getting less damp with altitude, the air becoming colder and thinner. At one point we walked into a band of low-hanging mist, shrouding the trees in an ethereal cloud. Not seeing where the path went next made walking harder, while the air felt thicker, each breath like suffocation. Even Jesus, younger than me by some years, seemed to be suffering. At one point I had to stop. 'I can't,' I panted involuntarily, the stabs of pain in my feet and shoulders sending pleading signals to my brain. 'You cannot stop now!' Jesus shouted through the veil of fog. 'Your soul will not rest if you do not find the answer you need!'
He was right. We escaped the band of mist but then the path became more rocky and slippery, and at one point had fallen away entirely. We had to pick our way through the trees, grasping at vines knowing that one slip would send us plummeting into the ravine below. On and on we went, hour after hour, my feet now bleeding inside my disintegrating shoes. And then, at last, we broke over the top of a ridge and there it was, distant in the trees just below the next peak: the monastery and, within it, the man who would know.
That last two hours sawed at the backs of my legs and made my lungs feel ravaged and raw as we raced against the fading light until finally, we were there. With the last of the sun's rays gently glowing against the monastery's dull brown walls and picking out the monks working on the stepped terraces beyond, we reached our destination. I had read so many things about this place yet still had no idea what to expect. Fanfare? Ceremony? The truth, fittingly, was more modest. A man in robes simply approached us and spoke in English. 'You are here to seek answers?' he asked. 'An answer,' I replied. 'Please,' said the monk. 'Follow me.'
After such a journey it seemed almost surreal. No fuss, no complication. The pain in every fibre of my body seemed to lift as we were led through a courtyard, up a short flight of steps and through a door into a dark anteroom. Without pausing, the monk opened another door and gestured for us to pass through. 'Please,' he said softly. 'The guru will see you.' And there he was, sitting cross-legged on a raised centre section of floor in a modestly sized room, festooned with candles and little else. The air smelt sweet and fresh around this slight man in a brown robe who slowly lifted his head and fixed me with a benign stare.
When at last he spoke his voice was soft and warm. 'Your question?' he prompted. I knelt before him, as I had read it was respectful to do. 'Guru,' I said slowly. 'Why does SEAT try to market Cupra as a separate brand?' There was a pause. The guru, the knower of all things, the font of all knowledge, the answerer of all questions, took a long breath, then lifted his head again to speak. 'I have no idea,' he said.