Audi RS3 LMS gets off to flying start with VLN class win
Racing version of Audi's 394bhp RS3 saloon sets the pace in its first VLN endurance race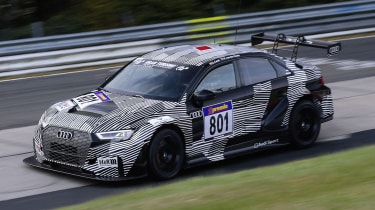 Audi's RS3 LMS race car, launched alongside the RS3 saloon at the recent Paris motor show, is already setting the pace in the TCR category of the VLN Endurance Championship.
At the final round of the VLN championship at the Nürburgring, Audi's two RS3 LMS entrants took the top two positions in the TCR class, securing 17th and 22nd positions overall in the race out of 140 entrants.
It was the car's debut event following its introduction last month and Audi notes that the cars' strong reliability is even more of a victory than its finishing positions. Chris Reinke, Head of Audi Sport customer racing, also adds that all four drivers - Jordi Gené and Kelvin van der Linde in one car and Rahel Frey/Christopher Haase in the other - felt confident in difficult conditions during the race.
> More: Audi RS3 saloon official - 394bhp for compact super saloon
The RS3 LMS actually develops less power than its road-going counterpart, with series regulations capping power to 325bhp. The road car makes 394bhp, and actually gets to 62mph quicker than the racer at 4.1sec versus 4.5sec. Likewise, top speed for the race car is 150mph, while the derestricted road car will reach 174mph.
With slick tyres, a sequential gearbox, aerodynamic addenda, reduced weight and a stiffer shell though, the racer is considerably more suitable for the gruelling endurance races of the VLN series.]
> Also read: Audi RS3 review - the definitive super hatch?
The LMS isn't cheap either at 129,000 Euros plus VAT, but with testing at Adria and Vallelunga going well and a successful first run against its rivals, Audi has confirmed that the first customer teams will get their cars before the end of the year.
Audi Sport had much to celebrate at the Nürburgring this weekend, also taking overall victory courtesy of Christopher Mies and Connor de Phillippi in an R8 LMS. Clever tyre choice on a drying track allowed the pair to gain a large margin over their rivals, eventually taking victory by nearly three minutes.