Aston Martin recalls DB11 to rectify unintentional airbag deployment
The issue that saw over a million Mercedes and Infinitis needing to be recalled affects Aston Martins too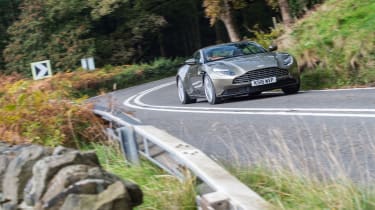 Aston Martin has issued a recall for its DB11. All 3873 cars that the British luxury manufacturer has built since late 2015, including the DB11 V8, suffer from a faulty steering column that can inadvertently trigger the driver's airbag. 
> Read our review of the Aston Martin DB11
The issue stems from the DB11's steering column, one of the parts in the British GT supplied by Daimler AG. Mercedes-Benz, as well as Inifiniti, has had to recall over a million cars collectively to rectify the same faulty steering columns.
The problem itself, a poor electrical ground point, might seem minor, but can cause the airbag to deploy unintentionally. There have been no reports of airbags going off prematurely in the DB11, but there have been cases in a 'handful' of Mercedes that have caused 'minor abrasions or bruises' to the driver.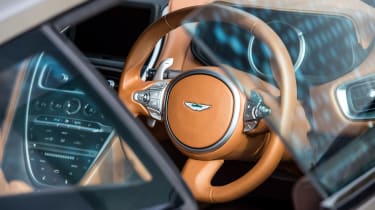 The potential airbag issues caused by the Daimler steering column in Mercedes, Inifiniti and now Aston Martin cars has nothing to do with global recall of the Takata airbag inflators. The device supplied by Takata has been used by 19 different car manufacturers, including Ford, Nissan, Mazda, Toyota, Honda and Subaru, has caused over 15 deaths and many more injuries.
> Find out more about Aston Martin's new, upcoming Vantage
The DB11 isn't the first Aston to be recalled in recent history. Some Vantages fitted with the semi-auto Sportshift and Sportshift II transmissions had to have a software update, the heated seats on 2006 to 2014 Aston Martins (DB9s, Vantages, DBSs, and Virages) had to be fixed as they didn't always automatically switch off and the seat could get too hot, and some DB9 and DBS vehicles had faulty battery cables that could have caused a fire risk. 
Aston Martin will rectify the current issue with the DB11's steering column completely free of charge and the necessary work can be completed in less than two hours.