Fiat Panda 100HP
Official: Jeremy Clarkson wrong about Fiat Panda 100HP! (Well according to Richard Meaden, who disagrees that the Suzuki Swift Sport is better)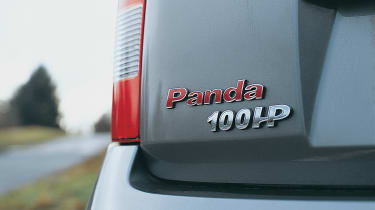 If any of you are regular readers of The Sunday Times then you may have stumbled upon a piece about the Panda 100HP by Jeremy Clarkson a month or so ago. He didn't like it.
No doubt like most of you, I enjoy spending an hour on a Sunday evening watching three amusing and talented blokes arsing around in other people's cars. It's fun and it annoys the do-gooders, which has to be a good thing. However, JC's Panda slagging really wound me up, because it was patently cobblers.
The nub of his argument was that the Panda is extraordinarily noisy. In fact 'there aren't enough Nurofens in the world' for him to attempt to hit the Panda's claimed 115mph top speed. Come on, it's a very small and highly-strung 1.4-litre car. If you wring its neck it makes a racket, but in no way is it 'like putting a Saturn V rocket in your vacuum cleaner', and when cruising at part throttle on the motorway at 85-90mph it's fine.
Jeremy also reckons Fiat is charging £10K for a £7K car, which may be true, but every car company – with the possible exception of Bugatti, which loses money on every Veyron – builds a fat margin into its pricing. That's why dealers can afford to discount. We paid only £8700 for our Fiat, and many of you have paid £8500 or less. Compared with Mini's 'lifestyle' pricing, the Panda 100HP's asking price is realistic.
Like us, JC is a big fan of the Suzuki Swift Sport. In fact he recommends buying one instead of the Panda. Only problem is that, even allowing for a similarly chunky discount on the Suzuki, it still costs a few grand more than the Fiat, which when you're working to an £8K budget is quite a chunk of cash. Another minor detail is the Swift's Group 9 insurance rating; the Panda is Group 5.
However, the final nail in the coffin was Clarkson's assertion that the Panda 'rides more smoothly than you might imagine'. It doesn't. With every passing mile I'm realising that the ride is actually pretty awful.Who's right and who's wrong about the Panda 100HP? Add your two-penn'orth by emailing fastfleet@evo.co.uk
Running Costs
| | |
| --- | --- |
| Date acquired | December 2006 |
| Total mileage | 4,254 |
| Costs this month | £0 |
| Mileage this month | 1,145 |
| MPG this month | 42.4mpg |